Among the most interesting and enigmatic swords of the ancient world is a Greek sword known as the
Kopis
. The Kopis is a recurved "saber", which begins to appear sometime in the 5th century BC. It is a weapon clearly intended for cleaving or cutting (the very name
Kopis
is taken from a form of the Greek verb for "to cut"). Although it could be used by either infantry or cavalry, the Greek historian Xenophon recommended it especially for cavalry.
Okay, that's cool. What isn't cool is that you just don't run into reproduction Kopis every day (Note: I will use the singular word "kopis" also as a plural, not knowing what the proper plural term is. "Kopises" looks funny). There are a few reproduction Falcatas on the market, which can stand in for Kopis, but they're really not Kopis, they're Falcatas (I'll explain below). Besides, most of those aren't really all that accurate (as Falcatas) anyway -- it has to do with hilt construction, mainly. But I digress.
One solution? Go custom. Yeah. Sure. You got the money for a custom job? Good for you. If you don't, then, no Kopis for you! Or at least, Kopis that are fairly accurate, historically. That are Kopis and not Falcatas.
Well, along comes a little shop in Missouri. They make some nice-looking bows, and knives. They're called Scorpion Bows (and Knives, now). And believe it or not, this little shop has come up with a sword that I think will fill the need for a Kopis that is fairly historically accurate, useable, and affordable. They call this sword a "Falcon Alexander". I call it a Kopis.
WHY DO YOU THINK IT'S A KOPIS AND NOT A FALCATA?
I knew you'd ask that. No need to shout, though.
I could say it is as simple as the Kopis is the Greek version of this sword, and the Falcata is the Iberian version. And I could stop right there and be on pretty firm ground. But I won't.
Now, I am no expert on the Kopis, let alone on the falcata. So bear with me here: The main reason I call this sword a Kopis is that it looks very Kopis-like. How so? First, let's take a look at what a kopis is: It's a recurved sword, rather in length and use like a Turkish Yataghan. The Kopis can get up to 24 or 25 inches in length, and is generally thinner in body than a Falcata. Now, granted, earlier Falcatas could get fairly long too, but later on they tended to be shorter -- they could get downwards of 13 or 14 inches in length. Falcatas also usually feature a pronounced "ricasso area" (for want of a better description) and are more of a cut-and-thrust weapon, with a sharpened backedge (at least for the first few inches of the backedge).
Most Falcatas feature an enclosed or semi-enclosed hilt, that provides extra protection for the hand and could be used as a "knuckle duster" in close combat. The hilt is often in the form of a bird (usually a falcon or other raptor) or a horsehead. Now, to muddy the waters a lot, the Kopis can often feature such enclosed or semi-enclosed hilts -- but I don't think it's a rule, and I'll tell you why: Many illustrations of the kopis in use, on amphorae and other illustrations, show a more open grip, sometimes with a pronounced, protruding gaurd, sometimes not so protruding. Make no mistake, as I mentioned, the Kopis can have a semi-enclosed hilt, terminating in the head of a bird-of-prey; I am aware of one example of a kopis that has the head of a bird with a long beak. I think it represents a heron, but it looks like a duck to me (somehow, "duckhead Kopis" doesn't sound like a good marketing ploy, unless you're a University of Oregon booster, or a Disney fan). I just don't think it was the rule.
One feature that seems universal to these swords (Falcata and Kopis) is the "full tang" or "grip tongue" construction. The tang is fully the length and width of the grip; the pieces of the grip are attached to the tang directly.
(By the way, Scorpion Bows makes a nice little Falcata as well, which is fairly accurate too, if a bit plain.)
Now, That Being Said (tm), let's actually discuss this particular sword, shall we?
The Scorpion Bows "Falcon Alexander" was named in honor of that Great Greek (actually Macedonian, but who's counting?), Alexander. Now, we don't know know what kind of sword Alexander actually did use (one of the more accurate depictions of Alexander in battle, a mosaic from Pompeii, which was based on a much earlier Greek artwork, show Alexander with a sword that looks rather like a standard Greek-style double-edged sword, or Xiphos. But Oliver Stone chose to arm Alexander with a Kopis, so who's to dispute that?), but the Kopis is as good a guess as any.
Let me show you some numbers instead of rambling on pointlessly anymore:
Overall length: 26 inches
Blade length: 19 3/4 inches
Hilt length: 6 1/4 inches
Blade width: 2 1/2 inch at widest;1 1/2 inch at narrowest
Weight: 2 lb, 6 oz
PoB/CoG: 6 inches
CoP: 12 inches (estimated)
Price: $219 US (without scabbard)
The blade is made from 5160, by
stock removal
. Stock removal is a perfectly fine way of making swords, and is the method used by some of the best makers in the business, from Maniago to Minneapolis, and from Wisconsin to Washington State. The blade is very stiff and I could not flex it, so I don't know how the temper is.
With a PoB of 6 inches, and no
distal taper
, this sword doesn't exactly come alive in the hand, but it can be made to move very quick with just a little practice. I wouldn't call it "sluggish", just not the liveliest blade I've ever handled. In fact, I'd say it feels rather axe-like.
As a matter of fact, the edge is very axe-like, as well. This is a chopper, folks, no doubt about that. It has a very axe-like performance, and cuts vegetation very well. I used this sword to cut an inch-thick branch, trimmed from an apple tree (WARNING: This could be considered sword abuse. Proceed with caution). I got 1/4 inch cuts with no degradation of the edge. Very axe-like, as I said. This is not a bad thing -- it's a very good thing. This is one tough customer, capable of taking on whatever task you may think of. It would make a fine camping tool or machete.
And it is historically accurate too -- again, in my opinion, not being a Kopis expert here -- at least in form and hilt construction. With it's "full tang" construction, it is one of the very few accurate Kopis/Falcata reproductions out there in the lower price range. If I were a Greek Hoplite reenactor, I'd feel okay about taking this sword pretty-much as-is (well, you might want to dull the edge a bit, for reenactments), provided I could get a nice scabbard made for it (Scorpion Bows does make a sheath for it, but it's probably pretty basic -- I didn't get one, so I can't comment any further on that). If you wanted a fancier hilt, you do-it-yourselfers could probably make one easy enough. Although, like I said, I don't think it would be necessary, and I'd feel quite okay with it as is, unless the authenticity director has a problem with it.
So far so good. What are the problems?
Inevitably, everything has problems. The Falcon Alexander is no different, and here goes:
First, the most obvious problems have to do with the grinding and
polishing
marks that invariably show up on ground blades. Even the best makers send out some blades that display grinding marks and other problems, Scorpion Bows is no exception. The grinding flaws show up especially on the back spine of the blade.
Second, the edge isn't exactly even. If you look distally at the blade, the edge veers from the right to the left very slightly. It almost looks like the blade is bent, but it's not.
Third, the grip is rather slick. The smooth polished wood can get rather slippery with sweat or humidity.
Fourth, well, I'd sure like to see some distal taper. That would push the CoG down a bit, making the sword livelier.
Fifth, the tip of this sword came very slightly bent. I'm thinking this was the fault of the shippers (USPS). It's bothersome but not the maker's fault. To me it's a minor distraction and I could sharpen the tip up a bit myself.
The first two problems are purely aesthetic and have no effect on performance. They are a bit picky, and granted, at this price level, one can't pick much.
The third problem is a potential safety concern. Although it could probably be resolved by some judicious leather cord wrap, or skateboard tape, or some other tacky wrapping material.
The fourth problem, that's my personal preference. But I'm telling you, it would make a great difference in handling...
Fifth? Most shipping services suck. Whaddaya gonna do?
In conclusion, I must say, despite some of the (largely aesthetic) problems, I like this sword. It's accurate, and it's useable. It is one tough piece of work, whether you're cutting vegetation, milk jugs, or enemy phalangites. It could be better -- Scorpion Bows is fairly new to the world of sword making, and there will be that inevitable learning curve -- but what I've seen is very promising.
If you want a sword that will cut the hell out of anything, I'd recommend this sword. And if you're looking for a functional and historically accurate version of a Kopis, I'd also recommend it. Not that there are a whole lot of options...
Khairete!
Scorpion Bows and Knives:
http://traditionalarcherybows.com/
---

Attachment: 86.14 KB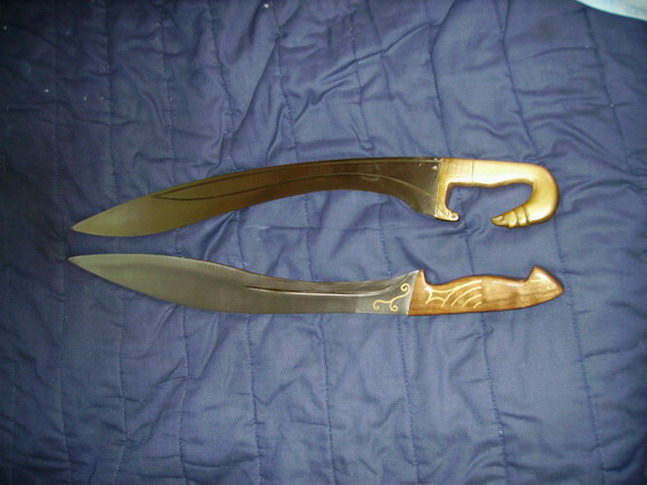 Attachment: 98.82 KB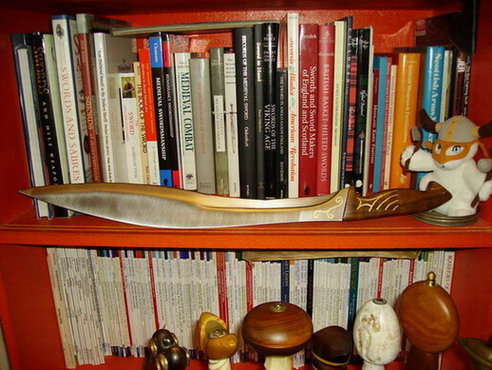 Attachment: 90.46 KB