---
Well, I've just moved home after graduating from college. My room is absolutely packed with crap, so it's time to make some room. Do-it-yourselfers listen up, I've got some stuff for you!
I'm putting up prices for direct sale, but I am more than willing to entertain offers of trades. I am a huge fan of the barter system, and you never know what's going to catch my eye.
First up, we have my retirement-from-piracy package. This includes:
One MRL Swordsman's shirt, Black, size Large. These are $39 new.
I replaced the neck drawstring with leather lacing. Only been worn a few times in the past 4-5 years.
One red silk sash from Atlanta Cutlery. $34.95 new.
The end-knots are actually separate pieces, I had to add some epoxy to sturdy them up. Looks fantastic.
One heavy leather belt with forged buckle. $75 new from By-The-Sword inc. 2 3/8" wide, 69" long. A little dinged up, but a helluva piece of leather. I made a combination belt-keeper/tankard-strap. The belt is really long, but the width/thickness makes it difficult to tie the excess.
I'll let the whole package go for $100, shipped conUS.
Pictures: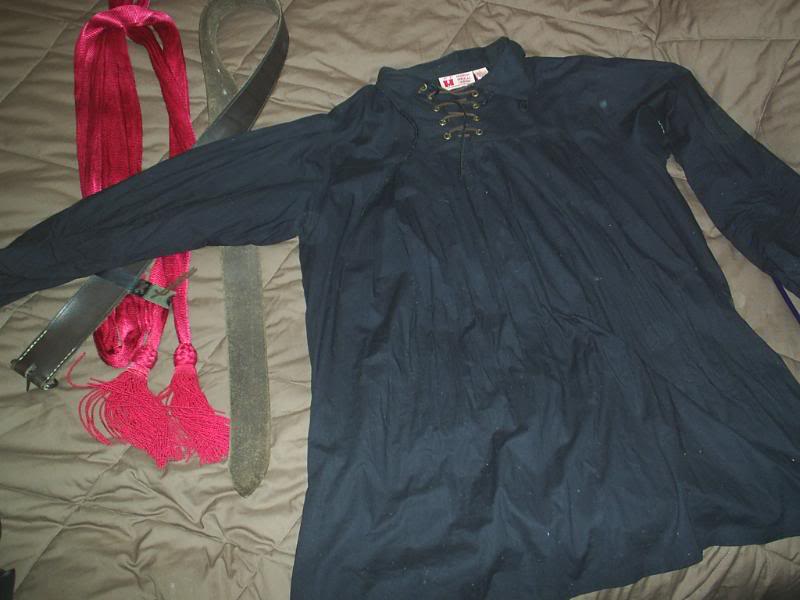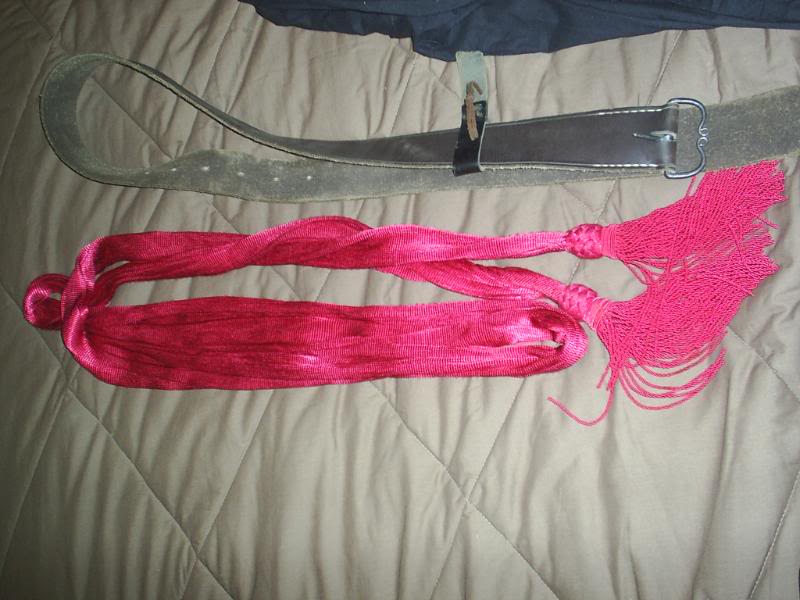 Next, an Albion claymore sling. Reproduction of the sling from Braveheart. Got this in a trade. Costs $222 new from Albion.
I'll let this go for $100, shipped conUS.
(DelTin longsword not included, just used to illustrate how the sling works.)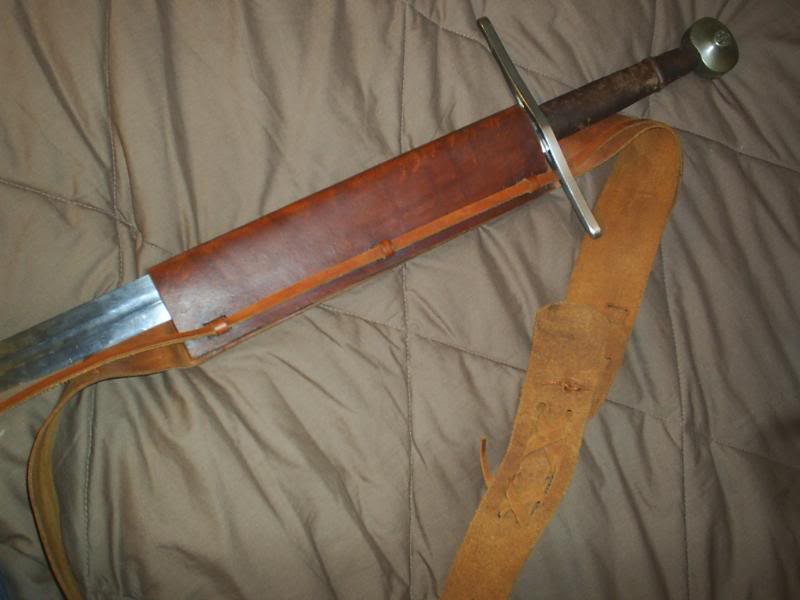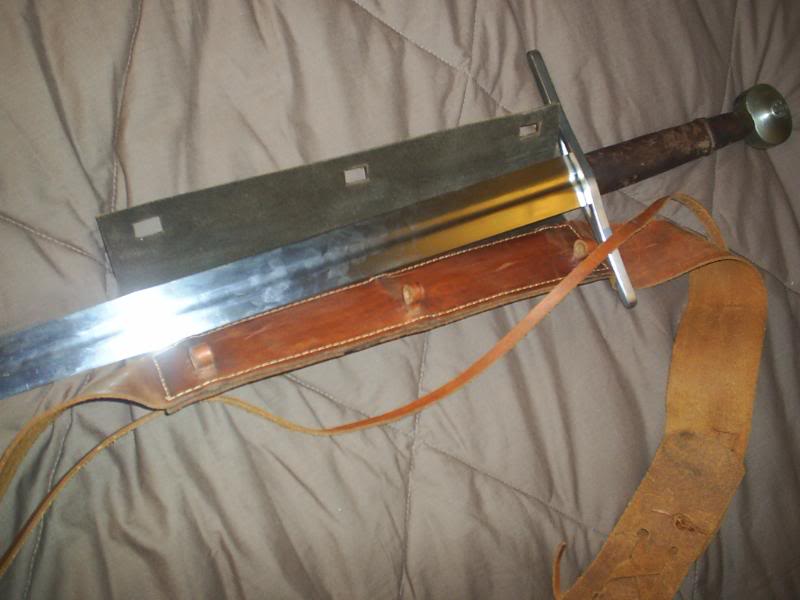 Hanwei Scottish Court Sword- retails $175 on KOA.
(http://kultofathena.com/product~item~PC1214.htm)
The sword is nearly new, unused, only worn around the house and used for dry handling. The copper of the fittings shows through at a few points where there were VERY thin spots in the silver plating. You really have to look for it to see it.
I got this maybe a year-and-a-half ago when I suddenly found myself obsessed with smallswords. The balance isn't stupendous, but I don't believe it's weight and balance fall outside of historical precedence. I'm just not as in love with it as I thought I'd be, and my interested have moved on.
I'm willing to put the starting price on both of these at $150, shipped conUS.
BALDRIC IS NO LONGER INLCUDED.
I'm keeping it for myself.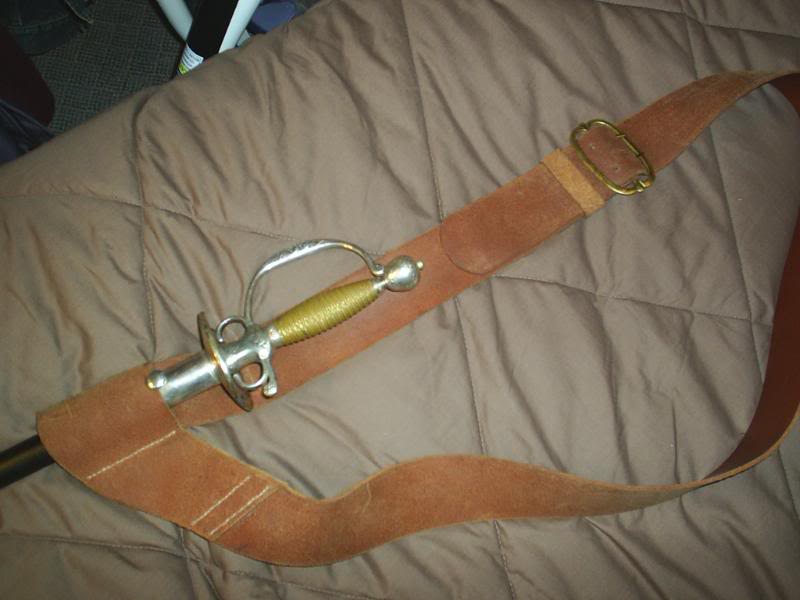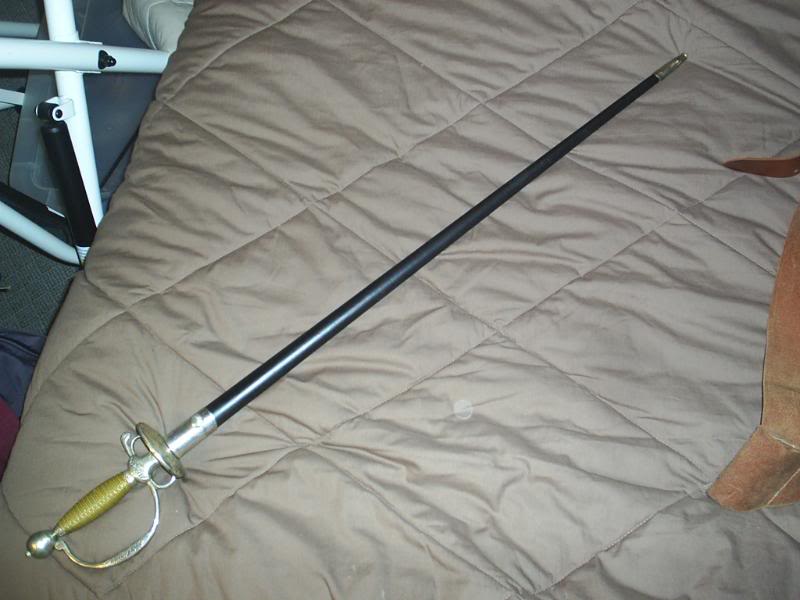 MRL
Rondel dagger
. Another trade item. No idea what it costs new, so I'll let her go for $50, shipped conUS.
Sharp, unused.