I was able to make it down for the Museum Replica's annual clearance sale in Conyers this last weekend. I picked up alot of odds and ends, mostly stuff I wanted to experiment on.
If you have never been to one of these sales, you should try to make it next year. They blow out all their discontinued inventory and returns for cents on the dollar. For example, I purchased 3 MRL L/XL brigandines new in the wrapper for a total of $60.00. This is the type of discount I am talking about. Those would have ran me about $600 had I paid retail. It's worth the trip.
Among other items, I picked up an older model MRL Warhammer and Dagger that seemed like they would make great pieces to do some custom work on. Either of them were rather plain looking (sorry I did not get a before photo) - so I wanted to antique the hell out of them and make them match, as a pair of weapons for a dual wielding type set up. They are both good quality, nice, tight, and solid - with the head peened through the side on the warhammer, and the dagger with a peened pommel. Both of them had plain hardwood grips/hafts with a non-descript cherry type stain. Well worth the cost - I paid a total of $42.00 for both of them...
Time to work some magic...
First, the dagger. I filed down the corners on the piece to give it a more rounded look. I then stripped the grip of the cherry colored stain and sanded it to a slightly more rounded shape. I engraved a V type detail by hand into the grip to blend better with the pommel. I roughed up the pommel a little bit with some chain and a screwdriver to give it a little battle-wear. I then stained it ebony, and lightly sanded it to give a worn effect. I added some small copper and brass dome details to enhance the look from my junk fitting box under my work bench. Lastly, I applied a coat of brown wax to the grip and antiqued the hardware with cold blue.
Finally, I laid a nice sharp edge on it. My son and I were cutting water bottles with this dagger before the night was over with to the amusement of us both. It's a fairly wicked parrying dagger now.
Next, I got to the warhammer. I did the same treatment to the handle as I did the dagger, giving it a nice worn look with a bit of subtle damage on it - and it matches the dagger perfectly. I rounded the haft over a 14" section where there hands would grip it at to give a little more comfort when using. I antiqued the head, added the same brass dome and copper details, and did a little here and there to make it a good companion to the dagger I had already completed. Lastly, I added a hand lanyard to the bottom of the haft for security while swinging if the need arose.
I cut some simple matchng frogs from some excess brown belt strap I had laying around and mounted them for wear when the time comes.
All done. Now I have a nice little set with a well-worn warhammer and parrying dagger all set up to go on a belt at some point in the future for any event/expo I might do at a later date.
Total cost - $42.00 plus a few minor odds and ends I already had in the shop.
Thanks in advance for comments on these!
Here is the goodies: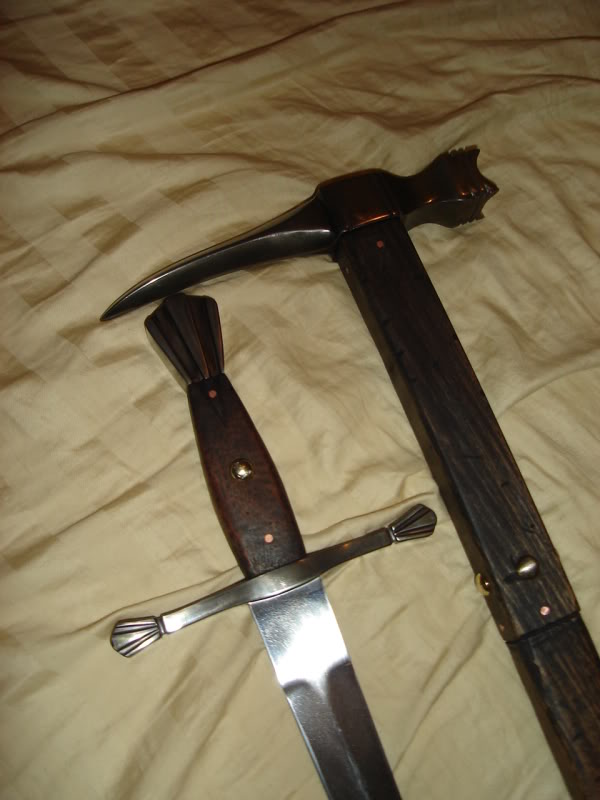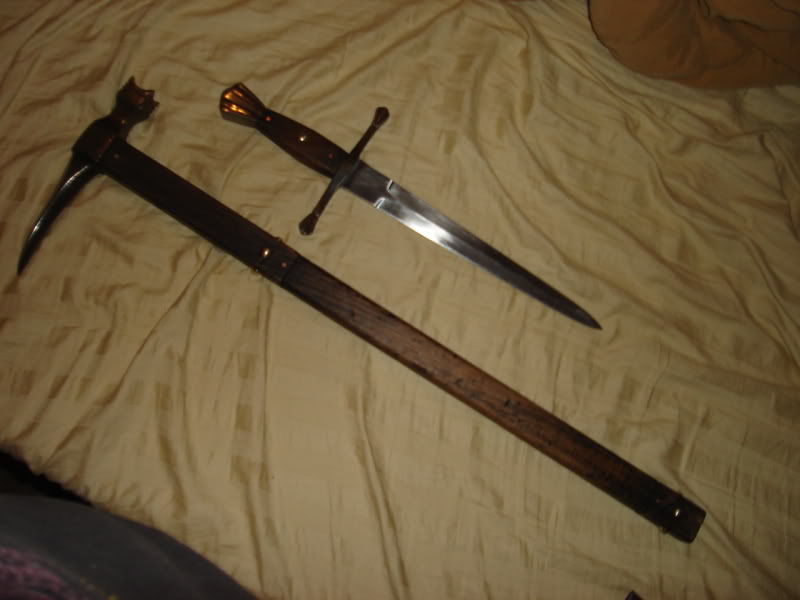 Best deal I have gotten for under $50 in a long time! :D