Hello again, Here is a pattern welded viking sword that I finished up last week. Inspiration for the sword was drawn from the sword on page 52 in Swords of the Viking Age, while not being an exact replica I did find myself looking at images of the sword and trying to get a feel for proportions and possible use. Mr. Peirce stated that "The cutting edges are massively wide and thick....." which is one feature that I was going for in the design of the blade. The blade is made of O1/L6, the fuller has a herring bone pattern in the fuller and points up on both sides of the blade. The fuller is the only section that is pattern welded with L6/O1, the edge is solid L6 and was composed of two pieces, if you look close you can see the welding line where two edges where welded together at the tip. (it is solid, the weld just etched when I etched the blade and didn't feel it needed to be sanded out)
I decided to stick with the same hilt type as the original, however I didn't really follow the exact lines and choose to use twisted silver wire between the pommel. The pommel is a two piece pommel and the rivet head is recessed and ground flat, the tang is peened over on the bottom pommel and then covered with the upper pommel. I used some wrought iron for the fittings and slag deposits can be seen in some areas, Personally I like them and think the grain and slag add character to what must have been a brutal, yet simple weapon of war!
This past weekend I was down in MD at the Fire and Brimstone hammer-in and several of us decided to test the blade out so we chopped through a 2x4 a couple of times and did some test cutting with the blade and it held up very very well. The edge suffered no damage, the surface cleaned up pretty easy with a grey scotch bright pad, the hilt stayed tight, and the blade stayed straight. It may look pretty but it is very capable of actual use in addition to being eye candy.
If you have any questions or comments please feel free. I can take additional pictures if anyone wants a close up of some detail. Also worth mentioning that I am working on a wood core scabbard for this blade… All I have left to do is wrap the wood in leather, I will leave scabbard fittings for someone who can make them better then me! This piece is currently for sale.
Here is some info:
Overall: 35 /16"
Blade: 28 1/2"
Fuller length: 24"
Width at guard: 1 3/4"
Width 2" from tip: 1"
Weight: 2lb. 7oz.
CoP: 18 3/4" from guard
Balancing Point: 5" from guard
Might be worth mentioning that the pattern welded
seax
from last month is still for sale :
http://www.myArmoury.com/talk/viewtopic.php?t...highlight=
---

Attachment: 10.79 KB



Attachment: 87.37 KB



Attachment: 98.25 KB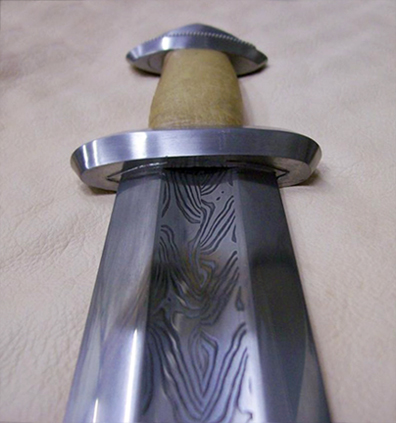 Attachment: 98.83 KB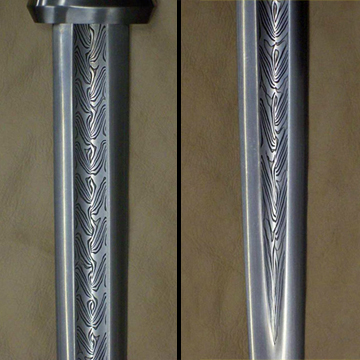 Attachment: 97.25 KB