---
:evil: Sometimes things just don't work out as I would like them to...... in this case I bought a beautiful buff armouring coat from Jonathan Fletcher at end of year and it arrived yesterday. Its a Mark Beaby Littlecote buff, perfect for re-enactment as it is made of proper buff leather, linen liner, butt stitched, historically correct alternating hook and eyes. Weighs 19 pounds! Although it has seen some use it is still in great shape, leather still has that wonderful buff smell, and is still a little stiff and in need of breaking in. The Hook and eyes are done perfectly and this is just a terrific arming coat all around. problem is...... it doesn't quite fit me. I have been trying to shrink myself using my mind power all morning and even with the help of the better half I can't quite get it to fit. I am 6-1, 190 pounds, 38 inch waist, have a 43 inch chest and a 40 inch belly and I can't quite get this all hooked up even with just a t-shirt on underneath :cry: I guess I am paying the price for to much guinness. It does fit me nicely across the shoulders and down along my arms. So I have two choices, [1] offer this up in case anyone it would fit would really like it, or [2] add a panel so it will fit me. I will try the first option for a short time.
I know that Jonathan paid over 1500 pounds ($2200!!) for this coat when it was made, and I paid $670. Its still in great shape........ I will offer it for
$650 shipped CONUS and no paypal fees
. Hawaii, Alaska and over the two ponds is fine - I'll ship it back to Europe but you have to pay
620+ shipping
and I know it cost Jonathan 108 dollars to ship so if in Europe be ready to pay 720-750 dollars for slow post. Faster shipping will be extra. Boxed it will be over 10 kg.
Should fit nicely for anyone 5-9 to 6-2 or so, 40-41 inch chest and 38 inch or smaller belly (across the belly button). It is supposed to be rather tight so a breastplate and back can still go over it. Even if you are not into re-enactment, this would make for a great arming coat or for anyone interested in 17th c. armour. Here are photos, if you have any questions you can email me here at MA. Thanks for looking, aaach I hate to give this up but there it is. TR
Jonathan in the coat (since it doesn't fit me...)

the coat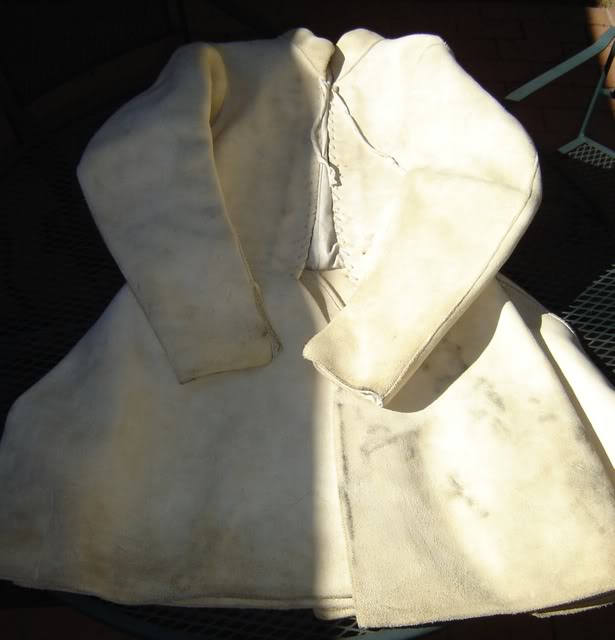 the liner and hook and eyes, note how they alternate this helps get the coat on properly to a nice snug fit