Posts: 101 Location: Idaho

Mon 13 Oct, 2008 4:34 pm
Dragon Squire scabbard
Design based on original artwork provided by the client. Full gallery here:
http://gallery.me.com/christianfletcher1#101178
---

Attachment: 60.84 KB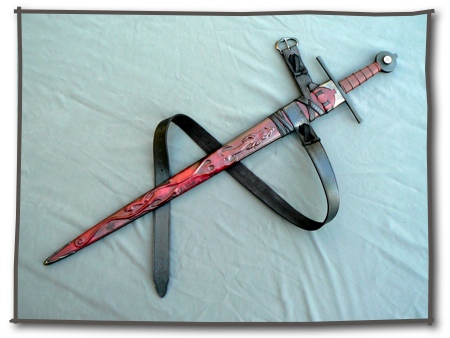 Saw that on the site while surfing through today.

Looked very nice and I could not help but think that it had to be incredibly time consuming to create.
That is ridiculously cool.

I am totally impressed by both the design and execution. Well done to both you Christian, and the client. A great original idea, pulled off perfectly. I'd have to agree with Joe on this one. It looks like an awful lot of effort was put into that.

Darren.
Really incredible stuff. Christian continually comes out with something that truly only he can do.
Page 1 of 1


You
cannot
post new topics in this forum
You
cannot
reply to topics in this forum
You
cannot
edit your posts in this forum
You
cannot
delete your posts in this forum
You
cannot
vote in polls in this forum
You
cannot
attach files in this forum
You
can
download files in this forum