This particular sax has been bugging me since I first saw it. The handle looks to be mostly intact (extremely rare for a sax), but it has some features that just do not make sense. Overall, it would appear that the end of the handle/pommel/upper guard might have roughly mirrored the lower guard/handguard, but then there is that odd thingie stuck there that has me baffled. My theory is it is remains of a sheath/scabbard, and I'd be happy with that (it's a feature seen on several sax), except for the oddness going on at the base of the blade, which also looks to be remains of scabbard fitting, only of a different form of scabbard altogether! It also appears to be solid, which doesn't sit well with the scabbard theory... The inlay at the base of the blade could possibly be the blade itself, swollen by rust, but I find this unlikely. The handle seems to have also experienced swelling, which further complicates any interpretation.
I hope you will look at the images, from Jeroen's excellent ZIP file, and give me your thoughts on what we are seeing here.
All I know of this sax is that it is from the Netherlands, and is dated to 500-700AD. The condition of the blade makes it difficult to tell, but it appears to be a type I, Frankish style, which agrees with the dates. Considering the rarity of saxes with surviving handles, it is an important piece, but difficult to interpret.
---

Attachment: 18.14 KB


Overall view:

Attachment: 80.5 KB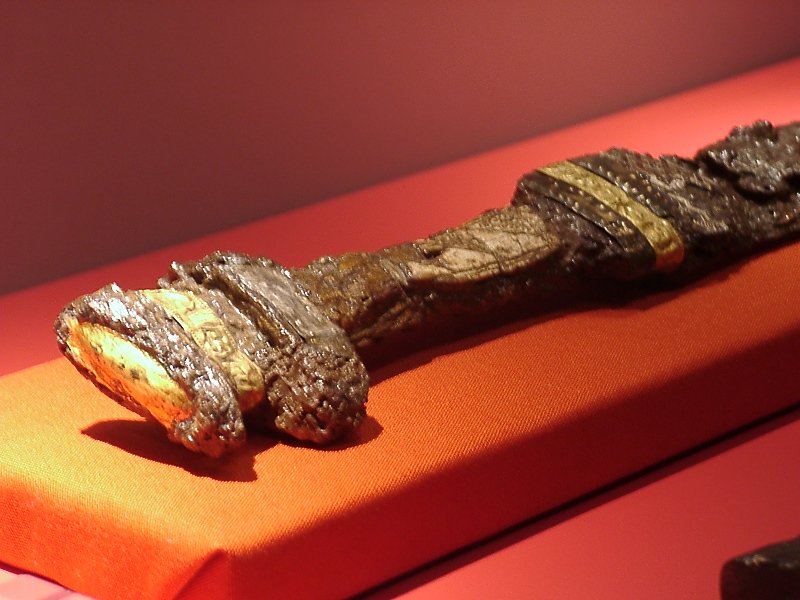 Handle closeup: