Someone in our reecanctment club has asked me about a kettle helmet with a faceplate he saw at a shop. I've been doing some research but I can't find any examples of this helmet being historical. The faceplate looks like an SCAism or a fantasy design, not something based in history.
Does anyone know more about this design? If it does turn out to be historical, I'd love to know which century it was used.
---

Attachment: 4.35 KB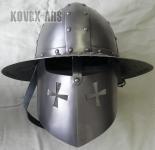 Kettle helm with (removable) faceplate from Kovex Ars.