I need some help.
I am getting married in 9 days. I purchased some wall-hanger swords for my groomsmen, and the Windlass Sticklestad Viking sword for my Best Man. I'm writing a personal letter for each of them, including a short bit of history about the swords that they are receiving.
I need some info on my Best Man's sword. Was this based on a surviving piece? Can it be traced to an exact time period? Was it influenced by a surviving relic? If so, Which one and can you post a link or as much info as possible? (pictures are also welcome.)
I really only have 8 days to get these letters done, so I could really use some help right now.
Pictures included here thanks to
http://www.viking-shield.com/windlassswords.html
:
---

Attachment: 16.76 KB


full-length shot

Attachment: 21.07 KB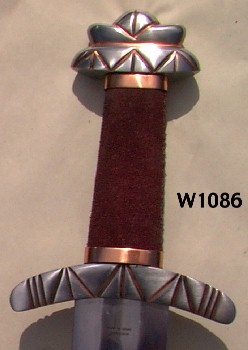 close-up of the hilt