OK, everything has been finalized and paperwork signed with the Reinhardt Estate. We will be able to move forward with still producing the Hank Reinhardt Collection. So without further ado... Here is the proto-type of the Henry V sword from Generation 2.
First shipment should be here in June.
Here is the Copy and the stats, then followed by some teaser pictures:
Henry V Sword
- Original: Dates before 1422. Westminster Abbey, England. Type XVIII, Pommel-type: J.1 Cross-style: 9
This sword probably hung above the chantry of King Henry V until it either fell, or was taken down and stowed away in an old chest in a room in the S. Triforium.
Henry V, British monarch of the early 15th century, was not just a ruler but an accomplished warrior who began fighting as early as age fourteen, when he fought the Welsh forces of Owain Glyndwr. Throughout his life, Henry V fought in many battles, including against the French in the 100 Years War. It is no wonder then that he would have chosen such a practical, no-nonsense weapon.
Ewart Oakeshott
described this sword as "one of the most beautiful medieval swords to handle I have ever known." He also stated " In 1951 I spent a good deal of time with it."
We (Generation 2) has replicated this sword from a drawing given to us by Hank Reinhardt before his death. He have painstakingly recreated this sword according to his specifications.
Hank requested that the sword have the hollow pommel and that the blade be hollow-ground just like the original. He also said to try to come as near 2 lb.. which is what the original weighs.
Ours came in at 2 lb.. 13 oz., a little heavier. But here is where it is heavier.
We are not capable of casting a hollow pommel, which certainly would have been lighter than our hollow pommel. I do not mind explaining how we made our pommel, so that you can judge for yourself the time we put into making this replica sword.
We started with 1/8" plate steel and made the circular band. Then we took two more 1/8" thick plate and made the front and back of the pommel, welded them together, ground and polished it smooth. I do believe this is where our extra weight comes from.
This sword does exemplifies attributes of a knightly sword of the highest quality . It has superb balance making it an exceptional fighting sword and excellent control of point for thrusting.
Blade length: 27 1/2"
Handle/Hilt length: 6 1/4"
Grip Length: 3 3/4"
Overall: 34 1/2"
quillon Length (Across): 8"
Point of Balance
: 3 1/2" Below Hilt
Weight: 2 lb. 13 oz.
Comments please........
---

Attachment: 53.62 KB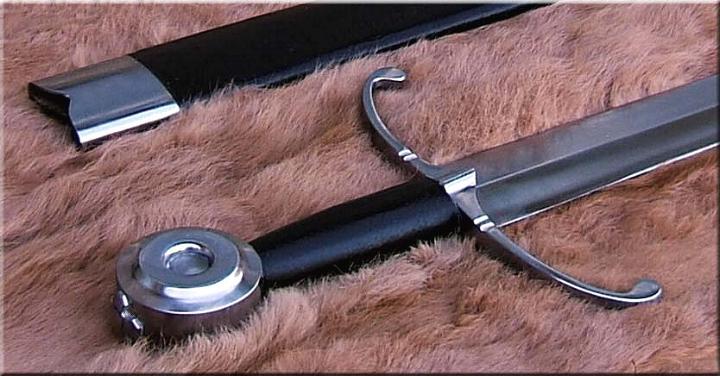 Attachment: 35.15 KB
[ Download ]


Attachment: 63.85 KB
[ Download ]