---
The rapier is fractionally longer than standard; I asked Craig at A&A to mount the hilt on a 43½ " / 110.5cm blade from A&A's #190 Elizabethan Rapier instead of the usual 41¼ " / 104.75cm blade of the catalogue item; it was done mostly for aesthetics, because the #190 blade has an attractive fuller which adds detail to this severely plain sword. Please note that there's no
guardapolvo
(decorative plate) inside the cup, just the leather disc as shown in the photos; this is as received from A&A, though with their reputation for accuracy, the leather disc was probably on the original as well.
Like the three-ring rapier I sold last week, this has spent most of its time on my office wall, except when being a lecture example of "Not Like In the Movies", and is almost as delivered. There are a few small discoloured spots on the rapier blade, but the couple of tiny casting flaws on the quillons and knucklebow, and some scratches and staining inside the (mild steel?) cup were there on delivery. These latter marks (
Photo 3
) can't be seen when the cup's leather disc is in place and it's mounted on the blade (
Photo 4
.)
Although the pommel, grip and guard don't dismount, the cup – secured by the historically correct method of two screws passing through it into holes in the "hilt arms" (finger-loops) –
can
be removed (
Photo 2
), and I'll ship it like this to keep the package dimensions and thus shipping costs (see below) as low as possible. That means "some assembly required!". It will be shipped with an unbuffed protective coating of Renaissance Wax; this polishes up or off with a soft cloth.
Based on the current A&A price for this rapier, I'm asking $450.00 plus shipping. Our bank's clearing time for anything but local paper has become ridiculous, so payment should be by either wire transfer or PayPal (if using PayPal, please add the usual 3% to cover their administration charges).
(I'm also offering the two-volume set of
La Verdadera Destreza
in VHS-PAL either with the sword or separately; if interested, see that listing for details.)
Shipment on clearance of funds will be by Registered Post unless I'm asked otherwise. Ordinary post is much cheaper, but offers no tracking number, while courier (FedEx etc.) is much,
much
more expensive. I've discovered that sword-length packages are calculated using "dimensional weight" (L x W x H ÷ 6000) rather than
actual
weight; this can turn a 2kg package into something rated at
14 kg!
and priced accordingly. Potential buyers in Europe should note that since I live in Ireland, this rapier will attract no additional import duty or VAT anywhere in the EU.
Respond by PM or to p
DOT
morwood
AT
gmail
DOT
com.
A few more large images:
Photo 1
Photo 5
Photo 6
---

Attachment: 146.92 KB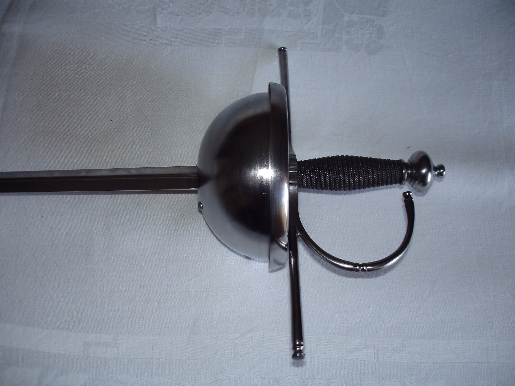 Attachment: 147.25 KB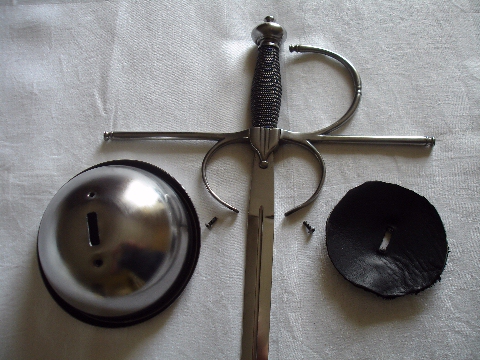 Attachment: 148.61 KB