Here are several photos showing the results of my first experiment in artificially aging a brass sword hilt.
This was a very instructive exercise, with very pleasing results. As I've said elsewhere, I think folks who collect antique edged weapons would be well-advised to do some experimentation of their own to see what's possible.
The photos are as follow:
Image #1 shows the hilt of an AUTHENTIC Confederate "floating CS" Staff and Field Officer's sword attributed to the firm of Leech & Rigdon (Memphis Novelty Works), ca. 1861-1863. Confederate weapons are rare and highly prized, and this sword likely would sell for tens of thousands of dollars, and would sell for much more if it has good provenance, engraved owner's name, etc. For this reason, confederate swords are especially prone to forgery.
Image #2 shows my antiqued version of a very common and inexpensive modern replica of the Leech & Rigdon sword shown in image #1. Often referred to as a "Shelby Sword" because the type was worn by CS General Joe Shelby of Missouri, it may be found in various levels of quality and price. The maker of my replica is unknown, but the sword looks very much like the misnamed "Cavalry officer's sword" sold by Atlanta Cutlery for approximately $140. I have seen identical replicas in the $100 range. I purchased this sword with a bullion sword knot and exceptional, accurate and hand-stitched officer's sword belt for $150 (+$30 for fast shipping) through an Ebay auction. Hilt needed repeening and is now very tight. I stripped the grip of its brass wire and faux leather wrap, carved another turn of the spiral to take it farther up under the pommel cap, then sanded, polished, stained and sealed the grip (some CW swords did have wire-wrapped, polished wood grips, and, in any case, many surviving examples have lost both wire and leather wrap. Albaugh notes that the "floating CS" example shown in his book has a grip not carved but rather wrapped with a heavy cord under leather and wire binding.)
Follow this link and scroll down to read details of the very simple ammonia fuming process that created this very authentic-looking brass patina:
http://www.myArmoury.com/talk/viewtopic.php?t=1032
Follow this link to see commercial photos of an identical replica in new condition:
http://www.collectorsarmory.com/shelby_sword.htm
Image #3 shows the sword in its blued steel scabbard.
Image #4 shows a section of the antiqued blade of the replica. I sanded the blade to remove the etched "frosting" and generally soften the edges of the etching. After light sharpening (many historical American Civil War swords were never sharpened at all, so I've walked the middle path with the replica), I sprayed the steel with a vinegar and salt solution (using an old kitchen cleaner spray bottle). After 24 hours I scrubbed the blade with fine-medium steel wool.
---

Attachment: 24.33 KB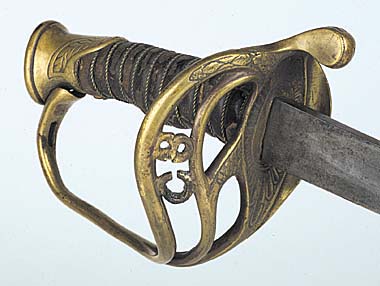 Attachment: 27.12 KB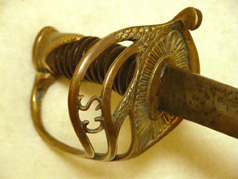 Attachment: 31.73 KB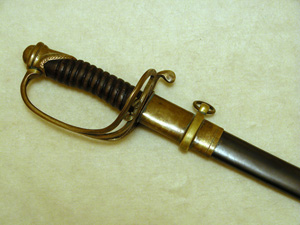 Attachment: 96.6 KB