Vince posted a pic on his latest projects album which shows him holding a sword he's building, inspired by an original piece, based on the sword of Ottoman Sultan Mehmet ll (residing at the Topkapi Saray Museum: 1/90) known to be one of the finest examples of 15th century Turkish made swords.
*The original has an overall length of 126.5 cm, with a blade length of 106 cm
http://www.picturetrail.com/gallery/view?p=99...uid=550150
Mac
Edit: - Vince removed the pic I'd mentioned on his album but added these two in-progess shots.
In Progress -- the Sword of Mehmet II
This sword is inspired by the sword of Mehmet II. A few changes were made by request of the owner. Blade Length 41-3/4", OAL 54". Pattern welded steel, Ivory grip, steel mounts with silver and gold inlay.
---

Attachment: 36.78 KB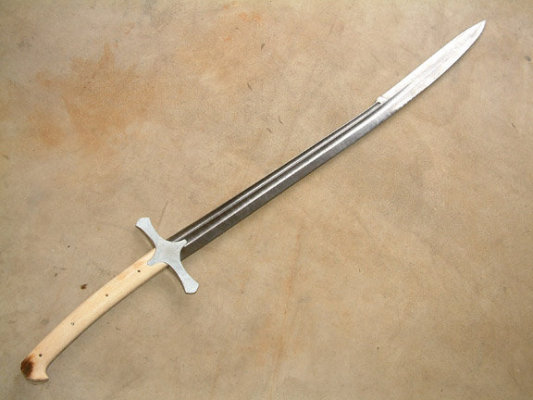 Attachment: 38.76 KB