Hey everyone,
I have come across something that I cant seem to place. First the sword has a round tip, one that I have never seen before. Which of course rules out any thrusting capabilities and makes me believe it is either a show piece or has a special purpose.
Does anyone have any ideas or know what it is? I am thinking Italian, ca. 17th-18th C.?
Also, authenticity, from the photos the wear seems legit. However, because of the text, which can be seen in the microscope views, it gives me the feel that it could be modern??
SPECS:
Total length including handle 99.5 cm
Length of handle 22.5 cm
Blade length 77.0 cm
Cross Guard width 19.5 cm
Blade Width at the handle 6.8 cm
Blade width, round end 4 cm
Weight: 1.6 kg
Blade is still sharp.
The thickness of the blade at the handle is approx. 4.5 mm and has fluctuating values around 5.5 to 5.8 along the fuller towards the tip.
---

Attachment: 100.14 KB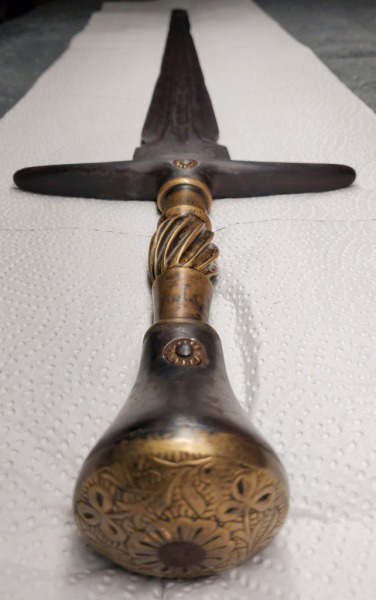 Attachment: 144.28 KB


Attachment: 172.5 KB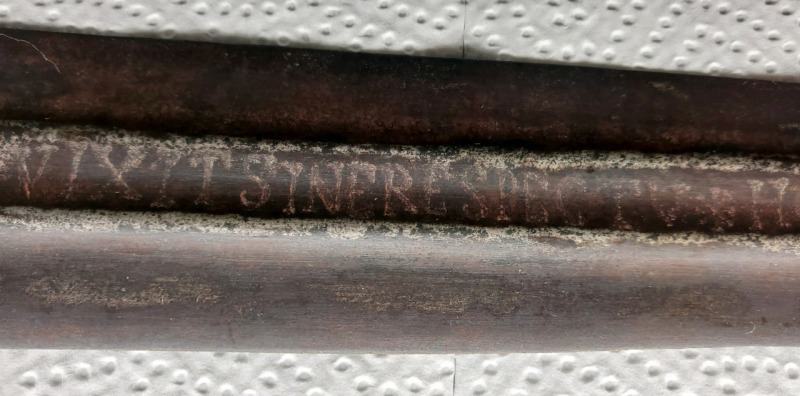 Attachment: 132.32 KB
[ Download ]


Attachment: 228.43 KB
[ Download ]


Attachment: 145.33 KB
[ Download ]


Attachment: 264.9 KB
[ Download ]


Attachment: 373.94 KB
[ Download ]


Attachment: 211.4 KB
[ Download ]


Attachment: 187.33 KB
[ Download ]