---
Used, good condition overall. Minor damage and stain on the blade.
Goes for $149.95 + shipping on koa. Selling for $90 + shipping. Shipping only in the U.S.
Specifications on koa:
Overall Length: 25 7/8'' Blade: 18''
$149.95
Blade: 5160 High Carbon Steel
Weight: 2 lb 4.7 oz
Edge: Sharp
P.O.B.: 4 1/8''
Thickness: 8.4 mm - 4.5 mm
Width: 33.5 mm - 48 mm
Grip Length: 6 3/4''
Pommel: Integrated
Large Khukuri blades such as this originate from the Cheetlang village of Nepal, hence its name. The forward slope of the blade ensures it can chop and hack with fearsome abandon and its grip is long enough to accommodate a second, average-sized hand, though it can be used single-handedly without difficulty.
The blade has a long and shallow groove along the spine to reduce its overall weight and decorative etching with brass inlay is inscribed on both sides of the blade. It is forged from 5160 high carbon steel and has been differentially hardened to optimize the blade; the edge is hard to prevent the blade from dulling easily or folding, and the body and spine are softer, relatively, so that the blade is not brittle and will better absorb shock from the strike or the parry. The edge hardness if 58-60 HRC, the body is 45-46 HRC and the spine is 22-25 HRC.
The grip is created by riveting two halves of carved rosewood to the steel tang. The grip has a pre-drilled, brass-lined hole for a lanyard. The bolster and pommel are of steel.
The scabbard has a finish of tight black leather fitted over a core of carved pinewood constructed with traditional Nepalese ''Laha'' tree gum glue. It has an integrated belt loop and a small retaining loop of leather at the tip. It has two fitted retainers to accommodate the ''karda'' utility blade and the ''chakmak'' sharpening tool. Like the larger sword, they are crafted from high carbon steel with grips of rosewood.
---

Attachment: 106.07 KB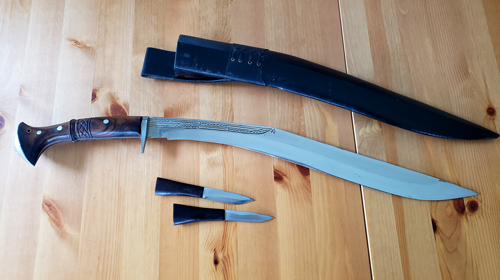 Attachment: 73.2 KB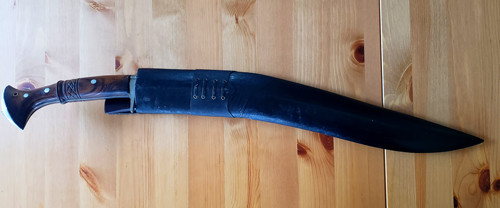 Attachment: 104.53 KB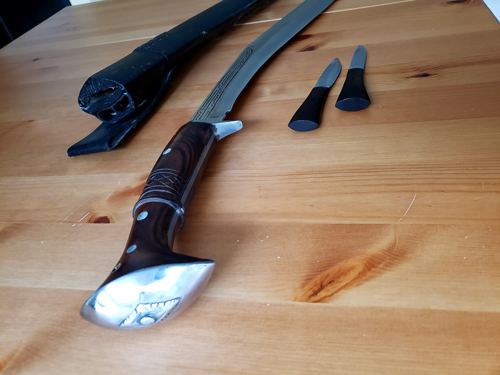 Attachment: 93.55 KB