---
This is a moved into a new house sale. I'm just getting rid of excess items.
Bought for $116 back in August 2018. Will sell for $80. Shipping included in US. You won't have to wait the 4+ months it takes to get one of these. PM if interested.
This never been used for any cutting but does have a small hairline crack on the handle right next to the bolster. It is so small that I couldn't get a pic of it. The blade could use some
polishing
as it's been in storage in it's scabbard for the last 4 months.
Beefy for it's size yet still agile. This one feels like a nice chopper. Stats are below from Tora's website. Unfortunately, I lost my scale during the move so I can't weigh this one. OL is approximately 16". Blade is about 11 1/2" long & about 2 1/4" deep. The BSI fits tightly into its scabbard and I will include all the authentication paper work with the sale.
https://torablades.com/shop/kukri/british-service-issue-1960-s.html
Tora's BSI (based on the 70's issue) generally has a 29cm long blade with a belly of 5.5cm and a rough weight guideline of between 440-515 grams. It has a stick tang horn handle and comes with military scabbard and frogs and Chakmak & Karda utility knives with 8cm blades.
Pics are below. I can always take and send more.
---

Attachment: 43.3 KB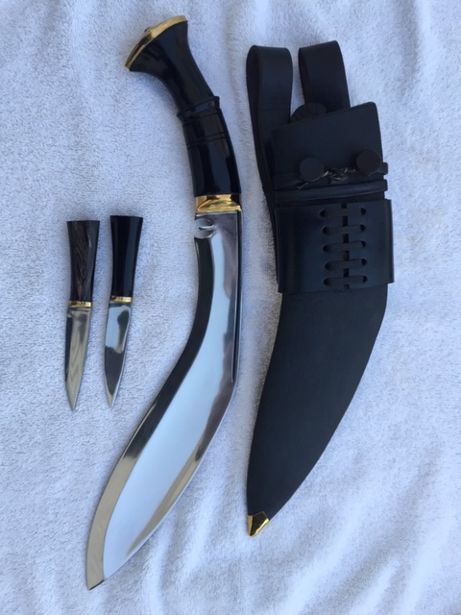 Attachment: 46.2 KB