---
Feltwell Saxon Sword Used. this is just like the new one that I have for sale, I purchased both at the same time for a project that never happened. This one is used, in the sense that I spent MANY hours rubbing out the standard Deepeeka Tool marks with the various sizes of .Scotch pads that Albion recommends It now has a grey satin finish
The only other one I can find on the internet is on ebay for $303 delivered. You can have this one at a fraction of that price. Although this Deepeeka sword is a VAST improvement over their regular releases, remember, you are not buying a Albion, nor is it priced like one.
An iron sword with scabbard of Early Saxon origin was found in situ in the hypocaust of the villa in 1961. It seems that the sword had been placed under concealment in the hypocaust when part of the tiled floor had been moved. It is nevertheless believed to be the earliest of its type to have survived in Britain. It is unlikely that the Feltwell sword was made in England. Archaeologists suppose it was brought over with the first Anglian settlers or maybe raiders.
Description :
Size: Overall 35'' / Blade 29''
•Full tang sword
•Wooden pommel, guard and handle
•Leather covered wooden scabbard
•High carbon steel blade- non heat treated
•Not sharp, but can be sharpened. Much thinner edge than older Deepeeka.
The blade, hilt, and scabbard at this point was very close to the actual find. There was no bronze pommel cap found with this sword, the museum displays one with it, but it is from a different find, the original sword most likley had only a heavy iron washer like the Hemmingen sword. Deepeeka's version has a peened and top nut assembly.
This newer Deepeeka series is a VAST improvement over their earlier works. The blade is much better, with a good wide fuller. The edge has not been sharpened, but unlike most Deepeeka blades this is easy to sharpen, about the same as a Del Tin.
It will not ship in the box shown, as it is hard to find a box that will fit. I can ship in the original box if you wish for extra shipping, just let me know
$225 shipped. Payment by check or MO. Paypal if you want at an extra 3% unless it is sent without fees.
Thanks for looking.
---

Attachment: 90.88 KB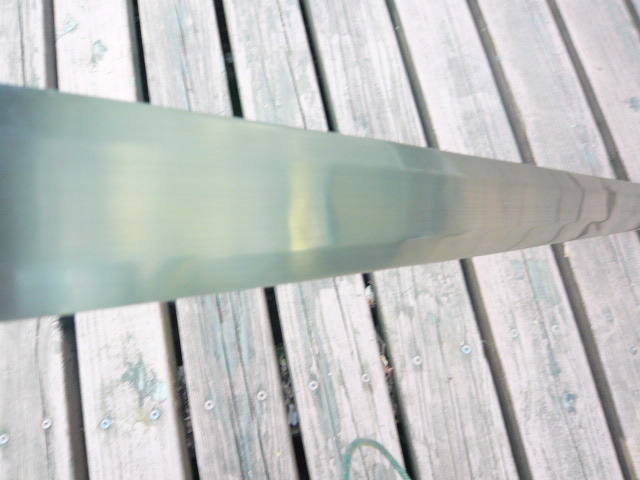 Attachment: 96.96 KB