Last May I´ve made a bunch of blades for some future projects. They were hardened and tempered by a professional company, and I´ve received them back early September. So now a more exciting phase of the process has started :)
Now, as the title of this thread indicates quite clearly, one of the blades was made for a "storta". The inspiration was taken from this original piece:
http://d13z1xw8270sfc.cloudfront.net/origin/33233/p1010415.jpg
Basic stats for my blade: Length: 50 cm + 15 cm tang; width: 5 cm (close to hilt); the blade is 6mm thick at the base, tapering to 4mm in the middle and 3 mm close to tip. It is basically straight (the original is little curved), and the fullers are arranged differently (personal preference). The tang ended up to be a little beefy, I might cut from it when making the grip.
First two pictures show the blade as it arrived from hardening / tempering after some quick cleaning and then after a rough polish. I´ve started to work on a hilt, but did not take any pictures yet. More to come soon...
---

Attachment: 161.41 KB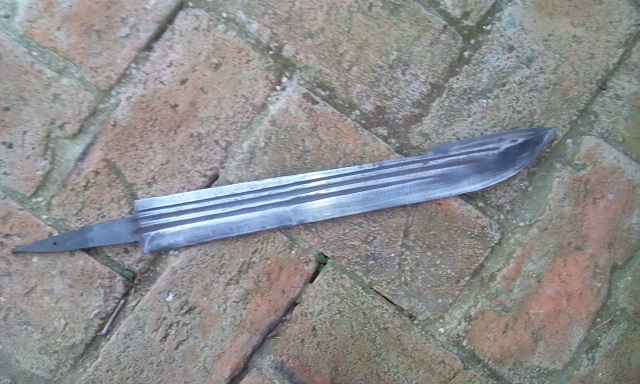 Attachment: 176.85 KB