During the latter part of 2013 I had the good fortune to run into a new craftsman named
Lyndle Driggers
. His Oklahoma based workshop / business is called
J&L Custom
Cutlery
. With the help of his wife, I believe, he's been making knives, Viking-style axes,
warhammers, tomahawks ... actually a variety of things. I've purchased a couple of his
axes, a warhammer, and when I read he was open to custom commissions, I bounced
a little idea I had off him ...
Okay, anyone think ...
" What does he want with a giant cake knife ?"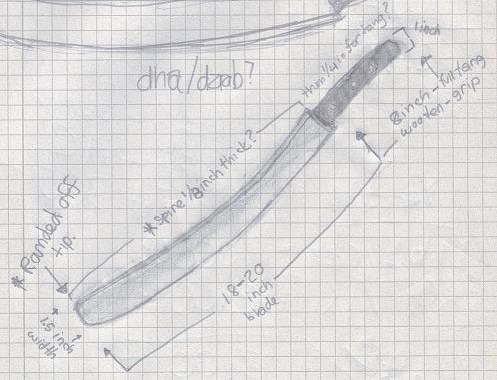 ... this is my drawing of a dha-like short-sword, actually somewhat inspired by a Scott Roush
project, and a recent intrigue with swords and knives from the Phillipines ...
Lyndle does a full-scale drawing before starting ...

Once the meager details were agreed on, Lyndle went to work ...