A while ago I have started to work on two daggers for late 14th century kit - an I-hilt baselard, and a rondel. I did not strive to re-create any particular historical piece, just wanted to make two plausible daggers that would fit to that historical period.
Blades were cut and shaped with angle-grinder from spring-steel, hardened and tempered. I wanted to finish them in summer, but did not have time, so they waited on the shelve for some months.
First picture shows them rough-cut, before initial
polishing
. Baselard is 40+ cm long; it has blade with a diamond
cross-section
and fuller extending to two-thirds of its length. As you see on the first picture, fuller was somewhat wavy - that´s a disadvantage of making it with an angle grinder free-hand. I have later corrected it manually with files.
Rondel is 35 cm long, with single-edge blade. I have later added a short false edge extending some 4 cm from the tip.
First picture shows both blades rough-cut, before initial polishing, second after hardening and tempering.
Last Sunday I managed to spend some few hours in the workshop, so more pictures will follow.
---

Attachment: 86.94 KB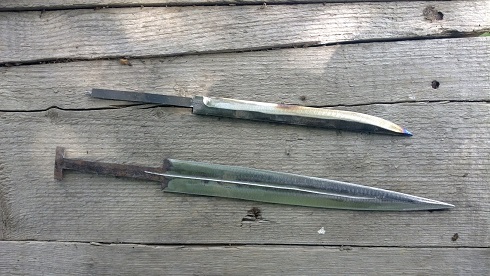 Attachment: 95 KB