I asked some questions on this forum before, but I've never contributed anything, so now that my first sword is in my hands, I thought I'd share it with you.
I wanted a viking sword, without too much decoration and a rough look/finish (i also wanted the Lord of the Rings old dwarven weapon look). So I chose Petersen type C, and picked a sword from the book, Swords of the Viking Age. I traced it in Adobe Illustrator and scaled it up. This way I could get some pretty accurate measurements of it.
I had it made by a local smith. I asked for a rough finish, so that you can see some pattern in the blade. The guard and pommel are blackened. The grip is wood, thread and leather. The edges were heat treated differently, the pattern is still visible on the blade, similar to katanas.
Some stats:
-blade length: 78.6 cm
-blade width: 6.2 cm
-grip length: 9.5 cm
-weight: 1630 g
-balance: 15 cm
As you can see it's quite heavy and has a very wide blade, and it handles accordingly. Once you start swinging it, it's hard to stop it, but it cleaves through everything. I managed to cut a 30 cm diameter, 40 cm tall wooden log in half with 2 blows.
Hope you like it too! :)
P.S.: For the photography enthusiasts: I used a Nikon D90 with a Nikon f/1.8 35 mm lens.
---

Attachment: 209.95 KB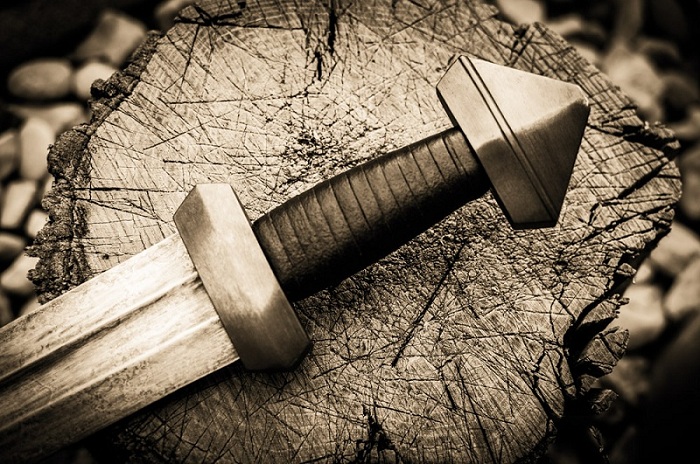 Attachment: 172.33 KB
[ Download ]


Attachment: 180.07 KB
[ Download ]


Attachment: 155.87 KB
[ Download ]


Attachment: 209.29 KB
[ Download ]


Attachment: 131.92 KB
[ Download ]


Attachment: 137.14 KB
[ Download ]