Posts: 5,977 Location: Birmingham, Alabama

Thu 06 Jun, 2013 12:19 pm
Sword of Hernan Cortés
Does anybody have better images and information for this sword?
---

Attachment: 12.9 KB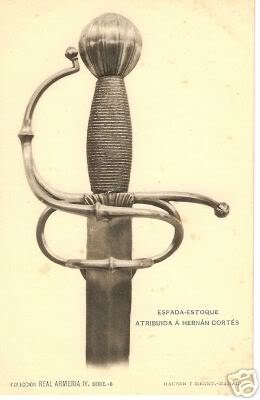 Posts: 198 Location: Los Angeles

Thu 06 Jun, 2013 1:14 pm
I have a good Toledo repro of that sword from the 50s.
I don't know how close it is to the original. My grip and pommel are a little different but that guard is very familiar.

I'll take some pics when I get home if you like.
It has a screw on pommel so I can dismount the hilt and take detailed pics of the the guard if you like.
Posts: 4,392 Location: Northern California

Thu 06 Jun, 2013 1:16 pm
Not that helpful, but here is a picture of Francisco Pizarro's sword from the same museum
---

Attachment: 95.71 KB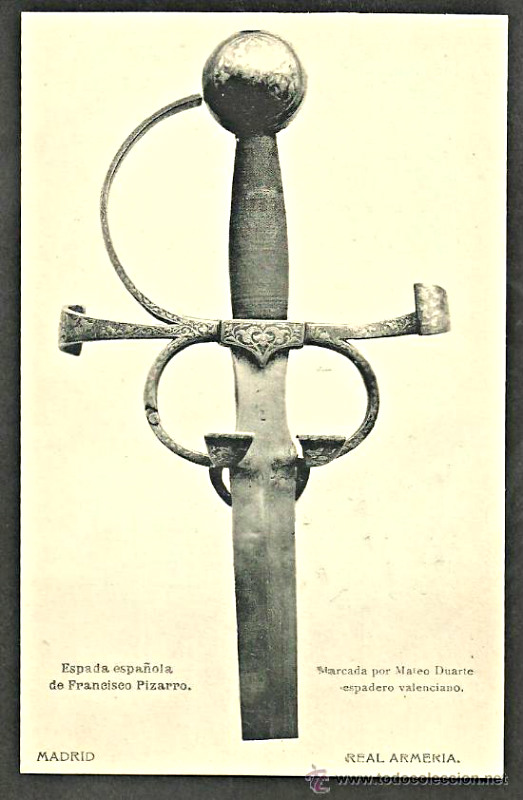 From Real Armeria de Madrid
Posts: 1

Thu 06 Jun, 2013 1:21 pm
Hi (sorry for my poor english):
Details of the royal armory catalog:
G 45 Sword-rapier
The blade:
Diamond section blade.
Wolf mark (maybe Solingen made) called "de perrillo".
Lenght : 1.010 mm
width: 32 mm
The guard:
(In spanish)
"La guarnición es de lazo de hierro acerado, blanco: lleva un gavilán vuelto hacia la hoja, y otro que va del guardamano al pomo; un ramal ó guarda de derecha, dos patillas y dos puentes al recazo y pomo elíptico estriado"
The book, in google:
Catalogo Historico-descriptivo de la Real Armeria de Madrid.
http://books.google.es/books?id=yrPbYQxOkrgC&...mp;f=false
Pics of the guard (turistic sword reproductions :-( ) :
http://www.culturesteel.com/es/espada-hernan-cortes.html
Regards.[/i]
Posts: 5,977 Location: Birmingham, Alabama

Thu 06 Jun, 2013 1:46 pm
Thanks!
Page 1 of 1


You
cannot
post new topics in this forum
You
cannot
reply to topics in this forum
You
cannot
edit your posts in this forum
You
cannot
delete your posts in this forum
You
cannot
vote in polls in this forum
You
cannot
attach files in this forum
You
can
download files in this forum