Arms and Armor 13th Century 'D Pommel' Cavalry Sword
Introduction
Arms and Armor of Minneapolis MN is a company that hardly needs introduction amongst sword enthusiasts and collectors. As the longest established manufacturer of medieval arms replicas in the USA, they carry a fine line of products and have a solid reputation for both historical accuracy and quality. They are also the go-to people for relatively affordable custom pieces.
The piece in question here was commissioned after this author viewed the following myArmoury thread:
http://www.myArmoury.com/talk/viewtopic.php?t=20025
The thread pictures a number of swords with
Oakeshott
category D pommels, sometimes described as shaped like a 'cocked hat' or the roof of a pagoda. Looking at the examples there are several that cluster into a very similar family of single-hand swords with long relatively slender blades and straight crosses. Some of these are quite famous and will be recognized immediately, whereas others are lesser known examples.
Although no two are identical, they are alike enough to indicate a style, if not manufacture by the same workshop or even hands. This led to the notion of designing a similar sword based on some personal preferences, as if placing an order from the historic shop (see next section for details). Since that hypothetical medieval shop has disappeared in the mists of time, I instead e-mailed these specs to Craig Johnson, Production Manager for Arms and Armor. After a few discussions about the details, the project was underway.
Some of the process was documented here:
http://www.myArmoury.com/talk/viewtopic.php?t=26665
At some point along the line Craig mentioned the possibility of putting this sword into production (which I approve), so I will treat this as a review of a product prototype.
Overview
This sword is based on specific features selected from the three similar historical swords pictured/linked below. Each of these swords has a similar type D pommel and an Xa/XI blade of about 95cm length. Based on the considerable length and handling characteristics of such blades it is reasonably assumed that these swords were intended for use from horseback. Although Oakeshott dated one of the swords linked below to the 12th century, most experts date these swords to the 13th century and consider them to be German in both manufacture and geographic distribution.
Pommel:
http://www.myArmoury.com/talk/files/d_pommel_514.jpg
(Note the slight concavity of the underside and the smooth rounded lines of the top)
Cross:
http://pic100.picturetrail.com/VOL907/4313045...812709.jpg
(a simple type 1, but with nicely rounded
cross-section
toward the tips rather than the usual square cross-section)
Blade:
http://www.myArmoury.com/talk/files/1126_930.jpg
(with a relatively short fuller and rounded toward the tip, perhaps denoting a late version of the type).
In addition, I requested a 'bloody red' (not oxblood) color for the leather grip –to make it stand out a bit from other swords in my collection.
Measurements and specifications of the modern sword:
Weight: 2 pounds, 15 ounces (1.32 kg)
Overall length: 42.5 inches (108 cm)
Blade length: 35.6 inches (90.3 cm) from cross to tip
Blade width: 1 3/4 inches (4.4 cm) at base, tapering to 7/8 inch (2 cm)
Grip length: 4.6 inches (11.8 cm)
Guard width: 9 inches (22.8 cm)
Point of Balance
: 5.5 inches (14 cm) from guard
Center of Percussion
: ~22 inches from guard
Oakeshott typology: Type Xa or XI blade (with unusually short fuller), D pommel, type 1 guard with rounded cross-section
Handling Characteristics
I was surprised when I unpacked this sword and took the first few swings inside my home; that long sharp blade started flitting around my living room much more quickly than I expected. This is a sword that (relative to other large single hand swords) is both nimble and precise. The reasons appear to be that for a sword of this type and dimensions 1) the overall weight is relatively low 2) the long handle and large pommel helps to keep the point of balance is relatively close to the cross, and 3) the weight distribution of the blade benefits from its narrow profile and thin tapering blade (I estimate 4.5 mm at base, 4mm halfway down, and 3mm nearer the tip). Still, although it's hard to put into words, the feel is different than e.g., an XII sword with more weight concentrated near the hand. There is a presence authority to this blade (the short fuller likely contributes to this) but still it's quite easy to put that sharp edge where you want it in a hurry. The handle feels best in the hammer grip against the cross; one can let the hand slide down and palm the pommel using either hammer or handshake grip, but the pommel edges are too acute to allow easy transitions between these two grips. Putting it through some fencing maneuvers, I felt it would do quite well 'off the horse', especially in a one-on-one dueling situation, but would likely be too long to maneuver well in close quarters.
I have not had opportunity to test cut with this sword, but one expects it would be an excellent cutter against light and medium targets as it's easy to achieve a high velocity, the smooth lenticular cross-section provides ideal geometry, the integral edge is very sharp. However, I don't think it has the heft to do well at crushing heavy targets. As usual for A&A, the temper is excellent; the thin blade is flexible but relatively stiff and resistant to vibration, even when struck away from the center of percussion. The pivot point is a bit back from the tip, but it's hot hard accurately aim a thrust. The tip is slightly rounded for tip cuts but is sharp enough to easily penetrate poorly protected targets. But likely the thin blade would buckle against hard targets.
My only criticism of the handling relates to the feel of the grip: although the oval cross-section provides good edge control and the central risers give good adherence for a firm grip, the leather is otherwise quite smooth and feels a bit slippery when a looser grip is used. This could easily be fixed with some additional fine underwrap and/or overwrap impression along the entire grip.
Fit and Finish
I'm a big fan of the way A&A finishes their swords, and this one is no exception. As one would expect, everything is tight and the blade produces the familiar 'ring' of A&A products. The lines are all even, crisp, and clean. The pommel is particularly pleasing, including subtleties such as a very slight concavity in the underside toward the hand, something I have not seen on any other modern reproduction of this type. There are some different styles to the finish: If one looks very closely at the blade, one can see a ripple pattern (not grind marks) that bespeak some type of power
polishing
. The pommel looks hand finished. The cross has a 'frosty' finish. Each component looks very nice and they flow together well.
The
blade geometry
on this sword is a highlight. Unlike some modern reproductions of medieval swords, past the fuller this sword possesses a beautifully smooth and rounded lenticular cross-section (see close up below).
My only critique of the construction is that the cross is rotated slightly about the axis of the blade, presumably this arises from difficulties in forming a true hole for the tang, because one sees this on many swords.
When it first arrived, the grip leather had a lighter orangey-red appearance that did not initially thrill me, but within a few days of handling it darkened (presumably from natural skin oils), taking on exactly the dark bloody red appearance that one can see in the pictures below (i.e., exactly what I wanted). My only critique of the wrap is that the leather was slightly short or shrunk so that if one looks very closely one can glimpse a tiny bit of the wood grip at either end.
In terms of historical accuracy, I feel overall this is a fine effort that comes closer than any other modern replica that I have seen in sword type. However, the sword is not quite so long (by 2" / 5 cm) as the originals it is based on. This likely benefits the handling properties described above. The shortening seems to arise in the fullered part of the blade, making the fuller seem relatively short (almost like a narrow XIII). Perhaps the fuller should be lengthened a bit (1-2") to maintain historical proportion.
Conclusion
With this sword A&A have turned out yet another triumph; a beautiful example of an interesting and under-represented sword type. The finish and level of historical accuracy is excellent (certainly relative to other production replicas of this type), although the blade appears to be slightly smaller and therefore probably easier to handle than the originals that were used as models. As a potential prototype, I have mentioned a few minor details above that might be altered to improve this sword, but I would not hesitate to reccomend this sword, as is, to anyone interested in a long-bladed, single handed medieval sword.
-JDC
---

Attachment: 87.67 KB



Attachment: 155.55 KB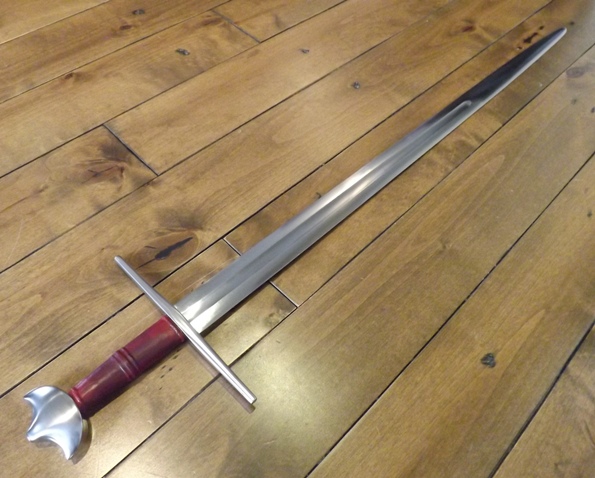 Attachment: 153.34 KB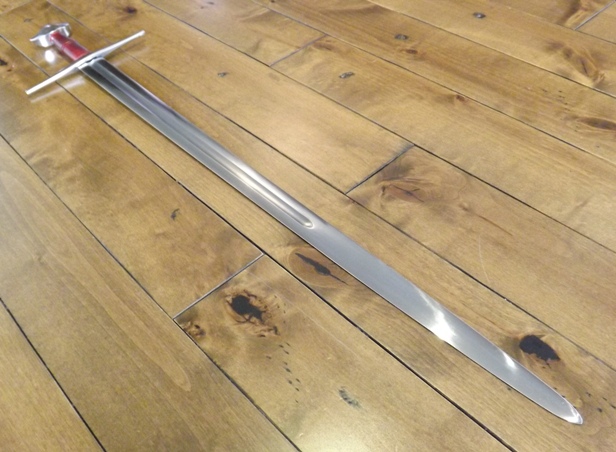 Attachment: 151.5 KB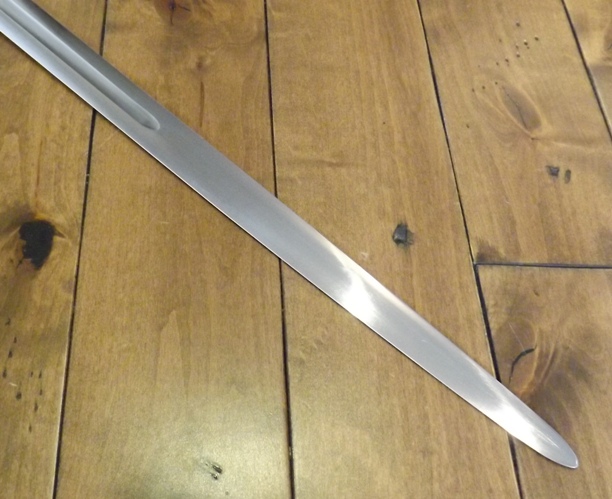 Attachment: 116.92 KB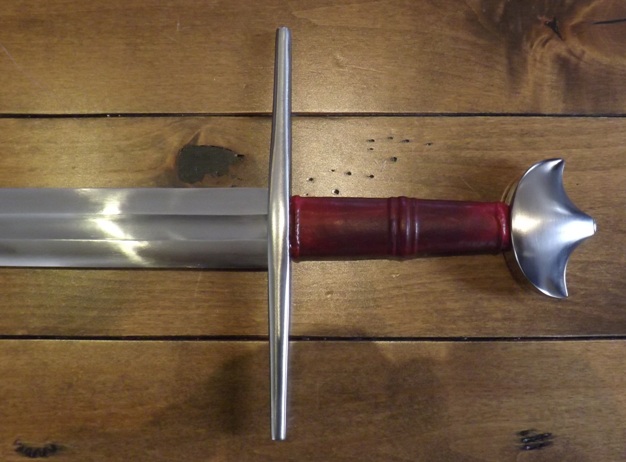 Attachment: 156.88 KB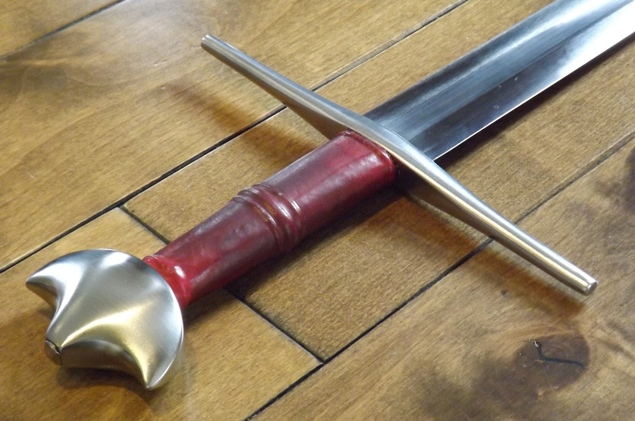 Attachment: 164.81 KB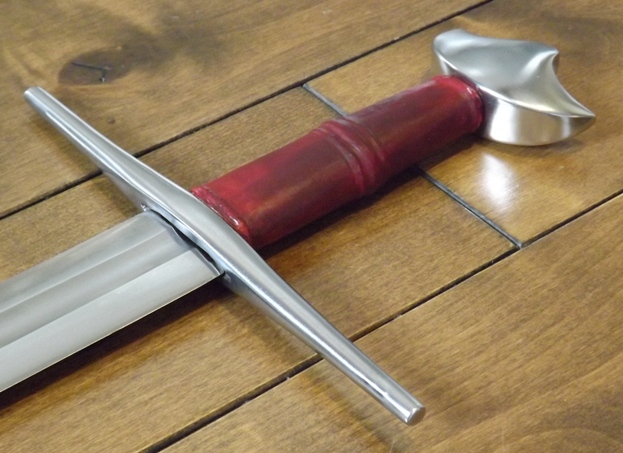 Attachment: 151.96 KB