I viewed the posts in this thread, and saw beautiful examples of swords/rapiers, etc. through history. I feel there is a direct correlation between artistic/architectural elements, and the ornateness of weaponry in each era. Attached is an image of the statue of Margrave Ekkehard, and his wife on the West portal of Naumburg Cathedral in Saxony (sculpted C. 1250). This single-hand blade is a prime example of the "elegance of simplicity", seen in the 13th C. vaulting of the cathedral's interior, the marriage of function and design. What impresses me most, is the mass of the pommel. Imagine the force, fed by rage, Ekkehard could achieve when his non-sword hand grabbed it for a two-handed thrust through the mail shirt of an enemy!
Close study reveals hints that both pommel and cross-guard were metal-worked, and probably bejeweled. The artistry of the scabbard, clasps, belts, etc. make it likely his sword had no less attention given to ornamentation. Though he was not depicted in harness, this sword was clearly symbolic of his rank, and likely the finest in his collection. In addition, note the size of his kite
shield
. The addition of poudrons, knee cops, etc. were beginning to alter the need for the great shields used by Crusader Knights of the prior century.
Edit: I'm adding a quote from Kirk Lee Spencer's reply to Nathan Robinson (Page 2 of this thread.) "The same dizzying overly encrusted decoration we see on most] [swords can also be seen in the architecture and visual arts of this time period (High Renaissance to Rococo). evidently during the high Renaissance a sensibility developed, and was passed through culture, that this "visual attention deficit disorder "was not silly but the very pentacle of perfection." Kirk's, and Nathan's comments infer the same reasoning as my above comparison of the Margrave's sword, and the vaulting of the cathedral where he and his wife are memorialized. Thanks guys! You gentlemen must have studied Art History as I have. :p
---

Attachment: 130.14 KB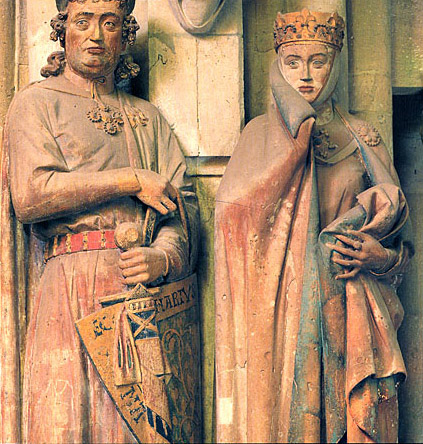 Swords do not need to be gaudy to be gorgeous.