---
I have 2 swords for sale:
1. Replica 1860 US Navy cutlass, unsharpened
I don't know the maker of this; there are 2 nearly identical ones on the market, one by Deepeeka and one from Pakistan. They both have the anchor marking, but there are no other identifying marks. Blade is high carbon steel (exact type unknown) and of unknown temper. Hilt is peened. Comes with leather-covered wood-core scabbard, fits well (will not slide out when turned upside-down).
Asking $40+shipping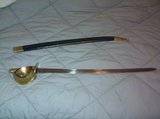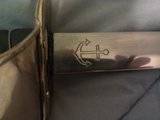 2. 2-handed sword, "Anduril"-type, unsharpened
The maker is unknown (there are absolutely no identifying marks), but it is of well-tempered high carbon steel...has a nice flex to it. The sword is a bit heavy (6 lbs), but not unwieldy. The pommel is screwed on, but the tang looks pretty solid, and is not welded (threading was done on the end of the actual tang). Hilt is well-fitted and everything is tight. This looks good hung on the wall, or would make a good project blade.
Asking $120+shipping