Hello All,
Please find below some of my recent work.
They have both been a pleasure to manufacture, being based around my personally favourite period, and also the same period that I re-enact.
THE RONDEL
The Blade is of Hardened and Tempered EN45 spring steel. Made sharp with a single edged slightly bellied shape, with the back edge false sharpened to approximatly a third of the way up from the tip. Stamped with my makers stamp and mirror polished.
The hilt of this high end Rondel is of turned Ash, bound with 3 strands of fine wire spun together clockwise and a second set the bound anti-clockwise, then wrapped side by side and locked into place with steel rings top and bottom. The top ring has 8 flush pins locking both the wire and the ring together and the bottom ring the same process but with 4 pins. The rondels are of inhouse made bronze and cusped and pierced.
Finally the whole of the dagger has then been peined together and cleaned back flush and mirror polished finished with a jeweller polish leaving a spectacular mirror finish.
THE MACE
Conctructed from steel stock. the shaft is mildly tapered to the head and hexagonally ground.
The flanges are all finely copied from an original German mace.
They are then attached using a solid weld running between each of the flanges then ground back flush.
Before this processs I manufactured a brass nut from a piece of square brass bar, then slid it down the shaft and butted up to the flanges and filed slots to meet each flange. Then pinned through each side of the brass nut through to the flange and interfierence fitted piened then cleaned back flush.
The same process was used to attach the crown on the top of the Mace, this was also hand ground from the same piece of brass square bar and carefully filed to the desired shape.
The hilt of the Mace has been made using Ash carved into a tapering haxagonal shape matching the shaft. Then a sleeve of black died leather was sewn and brass pinned to the grip. Then capped with a large steel hexagonal hand guard and a flush cap of hexagonal shape cappin the back also I manufactured a brass cap to finish the hilt was added. To fix this all into place it was then piened closed. Finally a lanyward was attached to the Mace with a 2 inch tap and dyed hand made eyelet being screwed in and locktighted, flemmish bound leather was then made to allow security whilst being used.
All the Mace was then carefully polished to a fine finish.
I will take stats of the items and post them up shortly.
These are for sale and would accept;
110 GBP for the Rondel
180 GBP for the Mace
I would sell them as a pair for 225GBP
Thankyou for taking the time to read this Post.
Many Kind regards
Josef
WhiteWellArms
---

Attachment: 17.88 KB



Attachment: 36.22 KB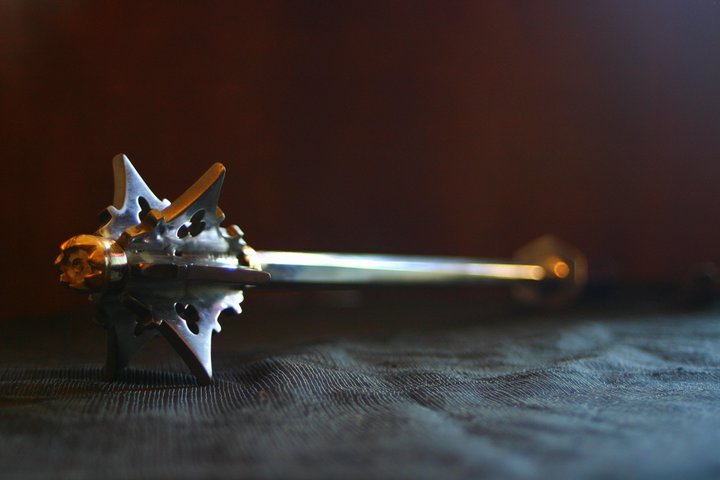 Attachment: 21.83 KB



Attachment: 28.89 KB