---
Hello,
Up for sale is a new in box, Albion Senlac. This is highly discounted, mint condition, limited edition, sword. With its artfully formed
Oakeshott
Type Xa blade, disc shaped pommel, and subtly tapering guard it is a classic sword of the early medieval period. This sword would have been at home on the swordbelt of a Saxon housecarl, or Norman cavalryman at the Battle of
Hastings
in 1066. This sword type is well illustrated in the mid 13th century Maciejowski Bible. This weapon has a cadence and beauty that photos do not do justice.
From Albion's site:
The Battle of Hastings, fought on the 14th of October, 1066, shaped the future of Medieval England. The battle is somewhat misnamed, as it was actually fought near the current Battle Abbey, about 7 miles from Hastings.

The Sussex coastline in the 11th century was nearer to the battle site than it is today and the only major road that linked William's landing site to London went through the area. Harold may have chosen this particular spot as it may have been the only piece of open ground in the area at that time large enough for the battle.

If Harold could hold out, William would have had great difficulties sustaining his campaign and securing his supply lines or retreat. If William won, he would have control of the only proper road to London - the heart of the English kingdom.

Harold's Anglo-Saxon army was in the preferred position on the high ground of Senlac Hill. The natural terrain slopes south from Senlac to William's position, with natural depressions on either side and marshy ground and banks surrounding this area. The incline from the bottom of the hill to the top is reasonably steep and, though Norman soldiers of the time would have been fit and strong, the climb would still have been tiring in the best of circumstances -- in a battle, it would have been a distinct disadvantage. In the end, however, the superior position was not enough to spell victory for the Anglo-Saxon king and instead it fell to the brilliant and ruthless William.

We decided to name this sword in honor of that famous hill, so pivotal in the history of that time.

The Classic Norman Sword
Though this type of sword would have seen use on both sides of this conflict, the simple cruciform design is more strongly associated with the Norman knights. This is a classic Oakeshott Xa -- a well defined and long fuller is one of the criteria for a sword of type Xa. Many swords of this type are represented in the Bayeux Tapestry.

They are cousins of their Viking age predecessors but are generally of greater length. The outline may vary: Some are almost parallel in width from base to point, while other have subtle tapering curves in the point section.

Most of these swords are found in the high medieval period and we have chosen to recreate two swords that could be contemporary to the Battle of Hastings or still be in use a century later.

These weapons are simple in outline but have a strong character nonetheless. This is difficult to appreciate from pictures alone.

When handling original swords of this type one is impressed by a surprisingly good balance, despite them having long blades and short hilts. It is obvious they were meant to be used together with a shield and often from horseback. Their reach is long and they deliver powerful blows with little effort.

This blade tapers straight to a point section that is about a third of the length. The subtle curving in the point on this long and handsome blade results in a graceful overall appearance.

This sword is a good example of the swords used by Norman warriors and their contemporaries -- not ostentatious, yet brutally efficient like the warriors who bore them.

A Limited Edition Hand Crafted Collectible Sword
This sword is offered in a limited edition of only 500 collectible swords worldwide.
Specifications:
Total length: 38.75" (98 cm)
Blade length: 32.875" (84 cm)
Blade width: 2" (5 cm)
CoG: 5.75" (14.6 cm)
CoP: 21.25" (54 cm)
Weight: 2 lbs 6.8 oz (1.1 kilos)
This sword will have a multi-month wait if purchased through Albion. If, however, you purchase from me I can have the sword out to you tomorrow and at your home by Christmas.
Price: $620
More pictures available on request. Shipping not included
---

Attachment: 73.54 KB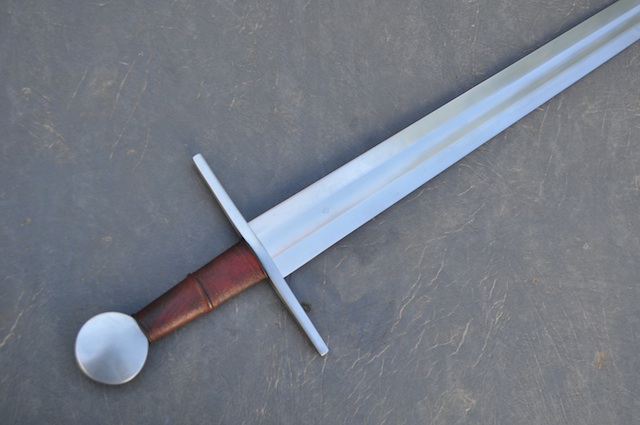 Attachment: 73.82 KB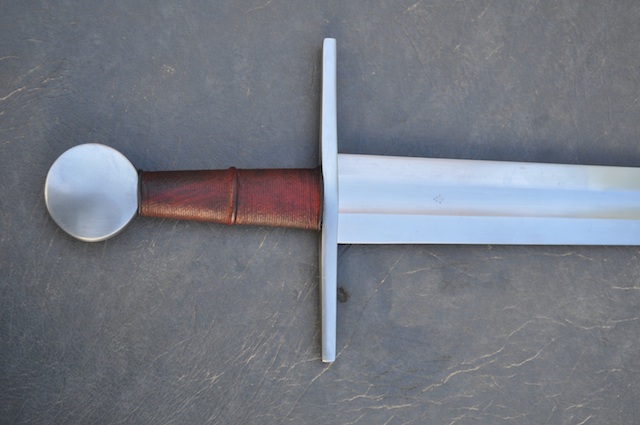 Attachment: 75.56 KB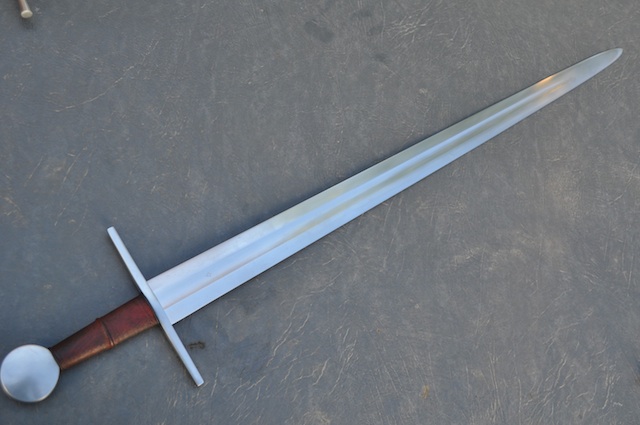 Attachment: 174.23 KB