Hi all,
I'm having a scabbard made (mid-15th-century
German longsword
suspension), and I'm trying to replicate the hook-and-eye fastener seen on Albion's
Brescia Spadona
and
Regent
scabbards.
The scabbard maker I'm using doesn't have this hardware on hand, so I'll be ordering from another site, and having these items sent to him for inclusion in the project. I've looked through a number of supplier sites, chiefly:
http://armourandcastings.com
http://historicenterprises.com
https://www.quietpress.com
...and, although I've found many buckles and strap ends, I haven't had any luck finding this type of hook-and-eye hardware.
Does anyone have any suggestions on where to find something similar?
I'm getting to the point where I might consider going with *gulp* a cow hitch on the bight, instead of the hook-and-eye set-up. I haven't been able to locate any period artwork that would suggest this (cow hitch) is in any way historically accurate, but at least it's inobtrusive and I can easily swap it out later, when I find the right fittings.
Cheers & thanks in advance!
Craig
---

Attachment: 26.99 KB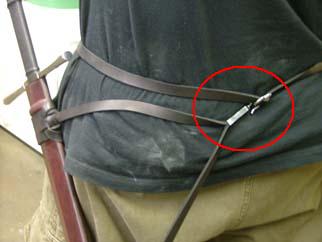 The hook-and-eye detail from the Regent scabbard

Attachment: 6.41 KB


A cow hitch :(