Dustin R. Reagan wrote:
Christian Böhling wrote:
Myles Mulkey wrote:
It's a similar sandwich construction to later Viking combs, but definitely has a different style.


Yep! Here are some viking and medieval ones I made (comb-making is good against winter-depressions!!!! Try one yourself!!


Great stuff! A quick question...what sort of tool do you use to add those dot-and-concentric-ring patterns? Also, what sort of dye/filler do you use to blacken the pattern, yet not stain the rest of the piece?

Also, any tips on how to incise/engrave bone and antler? I'd like to try inlaying wire into bone, but I'm not sure the best way to incise the grooves without too much chipping? Would a standard graver set be good for this sort of thing?

Thanks,
Dustin




Hi Dustin,

the tool I use for the point-circles is shown below....there is a horizontal stick with a ribbon which runs over the vertical shaft, I havn´t photographed it because it´s lost, hope you can imagine.....with this you start spinning this primitive machine....

For the black incrustations I use the fine powder of antler which you get by working with this material, put it into a spoon and heat it with a candle - may look strange if a policeman would see this :) - but then the powder gets very intesive black. Onto the hot spoon with the black powder I give a small piece of bee´s-wax, it sucks the powder and gets like gum...I apply it on the point-circle, melt it again with the heated spoon, and polish it into it. After it had cooled I simply polish the rests off. (this is the original-method, Archaeologists in Sleswig found bee´s wax and bone-char in those ornaments. Ther is a name: bone-black! That´s it. You can find a wikipedia-article on bone-char, bone-black, ivory-black!
It´s "the deepest available black"!

You can use any tool, you can use for woodworking and metalworking. But I wonder if hammering a wire into it will not damaging it....

---

Attachment: 102.63 KB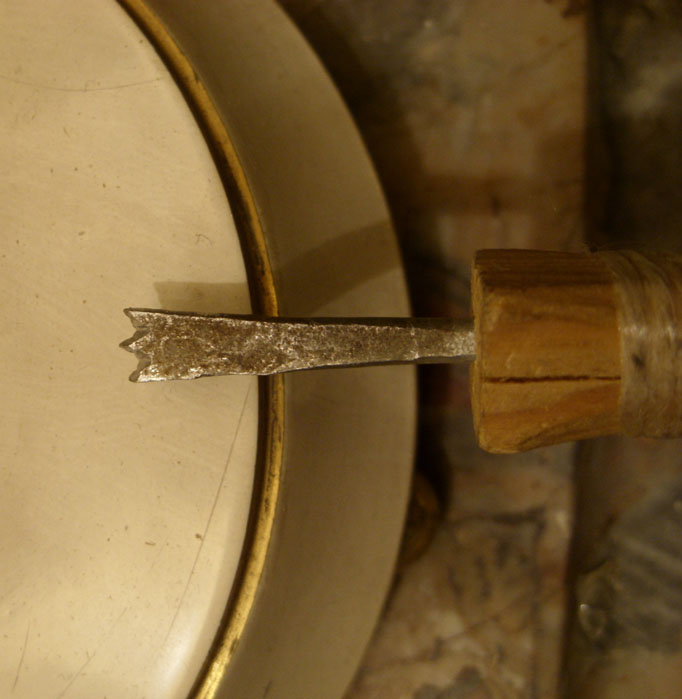 Attachment: 105.74 KB