This time it is an older Atrim 1401. I bought this second hand from Ken Jay and when strapped for cash earlier this year I actually tried to sell this sword and I am
so glad
that none of you took me up on that offer. Because I decided to modify the sword a bit and added a ring pommel to it as well as re-did the handle and now it has become one of my favorite swords for forms and cutting practice.
Here is what it looked like before with its original pommel and wood handle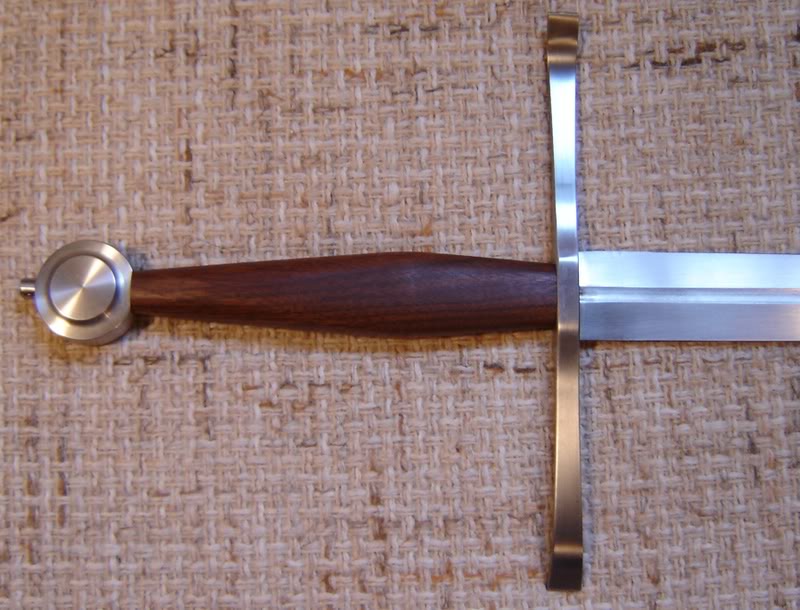 Here is how it is configured now with the leather wrapped grip and ring pommel
The specs on this are
Now weighs 1100 grams
34 inch blade
44 inch total length to end of tang nut
1.55 inches wide at hilt, tapering to 7/8ths just before the tip turn
20 inch fuller, steep
distal taper
in that 20 inches then a shallower taper out to the tip
POB 5.25
COP 24 inches
Very light and lively as Gus would say. What the re-hilt did for this sword is change the balance a bit moving the POB out from about 4.5 to 5.25, which given its light weight - I actually like a lot. The harmonics on this sword seem really right. It cuts very well although with such a blade you have to be careful with the edge alignment going into the cut. But it is easy to get this going at full speed and direct it. At 1100, even with that further out POB, this is a true hand and a half sword in that I can cut with it in one hand as well as in two.
Now as for the hilt. I decided to have the tang standing out prominantly as per some of the swords documented by McCoy and are at the Nat'l Museum in Dublin. Its an aethetic not everyone will like but I personally like the way it came out. You would not want to be hit with a pommel strike by this sword, its all tighter and stronger than might appear at first glance. I made a brass nut for the tang end so both that brass and the regular ATrim nut are tightened down on the thread. The brass is actually seated just a little inside the top of the ring. The tang is rectangular and beefy like all of Gus' swords so the ring is actually seated tight through a rectangular cut in the bottom of the ring (unlike my A&A sword where the ring actually has some play and the tang is more circular). The whole thing is tight and sings
I originally intended to die the wrap red. The three leather risers are embossed with some knotwork and are dyed a deep green. However, my kids have convinced me to keep the leather undyed and natural in color. The leather is already taking on some color from being handled and I have given it a little of Scott Wilson's magic sauce to keep it supple.
All comments are welcome. Now all I need is to get to the top of Russ' list. Below is the A&A Irish sword for comparison. TR