My research into the Swedish army in the 16th and 17th Centuries requires me to visit the archives in Stockholm, however on my last trip I changed my plans and decided to visit the Royal Armoury and the Army museum as I had not visited either for a long time. I took a lot of photos but being unfamiliar with the camera i used and lacking the skills necessary to take good photgraphs of items kept in poor light behind glass a lot of them turned out to be of low quality. Here is a selection of the best the phots which I hope you will enjoy.
Artillery
As a former artilleryman I've always had an interest in the cannon used by my predecessors in the regiment. The bronze cannon of the 16th and 17th Centuries are a favourite of mine as they often were a deadly combinnation of effciency and art.
This half-falconet was made in 1559 for the Livonian branch of the Teutonic Order by Karten Middledorp of Lübeck, it was captured by the Swedes as they intervened in the Livonian War after the Teutonic Orders rule in Livonia collapsed in 1560-1561. It fired 1/2 pound lead shot rather than iron shot.
A Danish 6-pound "Schlange" (aka Culverine) from 1543, the cannon next to it is Polish 3-pound falconet. A "schlange" was noted for it's long barrel compared to that of a ordinary cannon of the same calibre.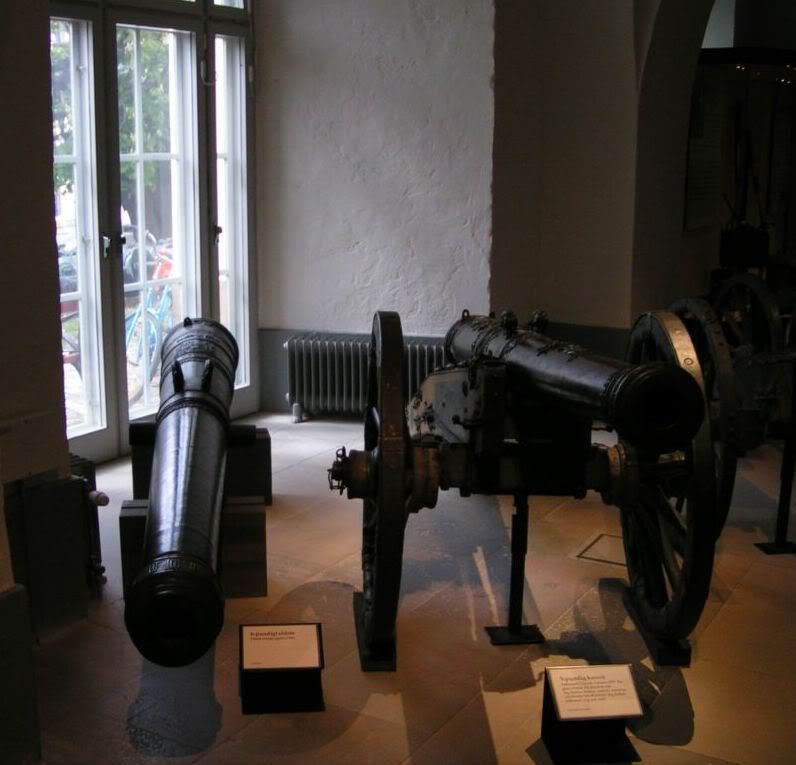 This Polish Falconet is a superb sample of the 16th Century cannon makers art. A 3-pounder cast in 1557 by Osvaldus Baldnerus of Nürnberg. The inscriptions on the barrel note contain the following text:
"I shake the towers, strike down the walls and destroy the hosts.
I am called falconet. Fear me and flee"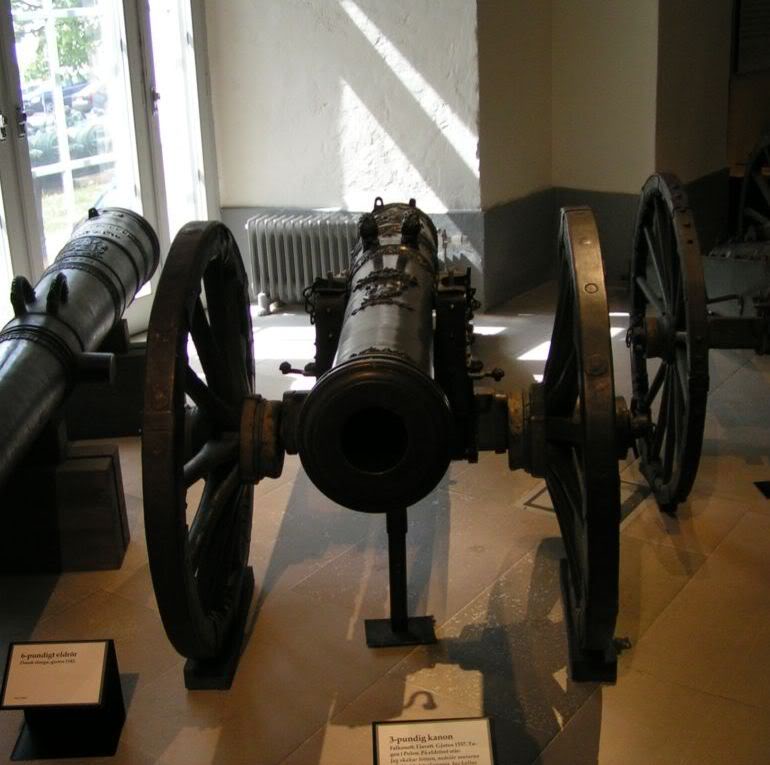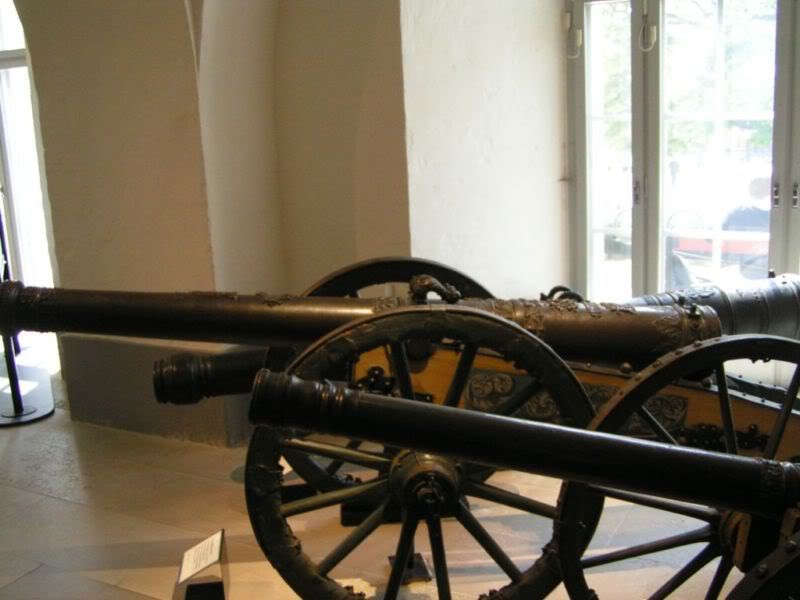 In an effort to create a cannon which possed both effective firepower and mobility Gustavus Adolphus of Sweden experimented with a series of 'leather cannon' in 1627-1630. The cannon were made by surrounding a thin barrel of iron or copper with layers of wire, rope, canvas and leather.
The only leather cannon preserved in a Swedish collection is the prototype made by Captain Ludwig Ripp in 1628. However Ripps cannon was not accepted into service. and he instead presented it as a gift to Chancellor Axel Oxenstierna. The gun barrel became a part of the collection of arms&armour in the armoury of Tidö palace a collection which later became a part of the Royal Armoury.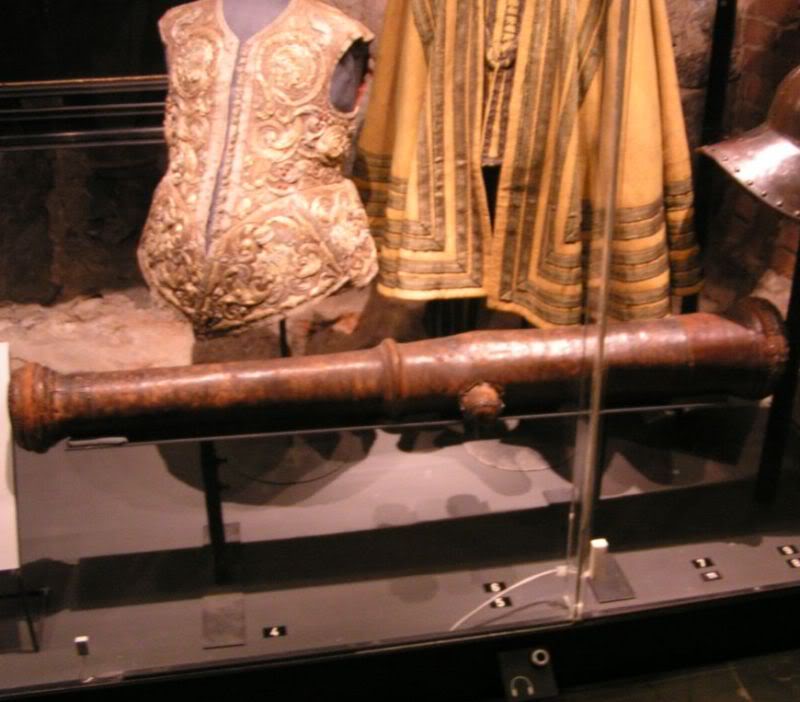 The 'Leather cannon' were found to be very prone to overheating when in action and were abandonded in 1630 in favour of light 3-pound regimental cannon made of bronze. The numerous regimental cannon provided the Swedish army with a significant advantage in firepower for the next 30 years. None of the orignal 1630's cannon have survived to this day.
This is a Swedish regimental cannon from the last quarter fo the 17th Century.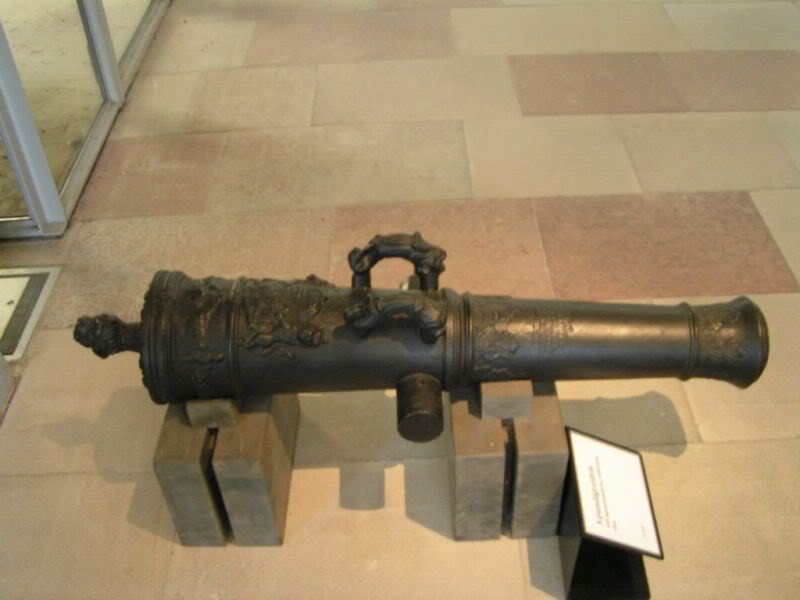 End part I