---
Oh, the pain! :cry: Up for sale is my custom Windlass Steelcrafts German Bastard Sword and scabbard. I need the funds for another sword project and canít afford to own both. If you like reproductions of documented swords and canít afford an AA or Albion, you might be very happy with this affordable, upgraded Windlass, one of that companyís best recent offerings, significantly improved on my workbench.
This sword is modeled on The
Wallace Collection
ís A477 (see last two photos below). A477 is a beautiful beast, originally dated to ca. 1510 but currently thought to combine a hilt of ca. 1580 with a 14th c. blade. Hereís the original Wallace Collection catalog text:
----
A477 SWORD (Bastard or Hand-and-Half)
The hilt of blued steel; pear shaped pommel, straight quillons, round in section, ending in pear shaped knobs, with a spiral or roped collar: side-ring on either side. The grip is shouldered, bound with cord and covered with leather. The broad, two-edged blade has a shallow hollow running three quarters of its length. The maker's mark is a bell within a shield, inlaid in copper on both faces 5.5" from hilt.
L. 37 5/8"; W. 2 1/8"; Wt. 4 lbs 8 oz.
German (about 1510)
De Beaumont Catalogue, No. 68.
Provenance: Comte de Niewerkerke
A sword with a like mark is in the Hermitage, Leningrad (Lenz, 1908, B 398)
----
In the photos below you see the sword as I received it new from Kult of Athena and the sword as it left my workbench.
I didn't set out to match the original exactly. I just wanted to give the reproduction a nicer finish, secure construction and a few more historically appropriate details.
The blade is of thick and pronounced hexagonal section in its upper third, gradually tapering toward the point and becoming lenticular. It's a broad, strong cutting blade, and also the stiffest Windlass blade I've ever encountered. That may sound like faint praise, but it really is extremely stiff.
Original Windlass catalog stats:
38 3/4" overall
30" blade
POB 3Ē below cross
2 1/8" wide, 3/16 thick at cross
3 lb. 10 oz.
That may sound heavy, but itís actually
11oz. lighter than A477
! It's a massive weapon.
In single-hand use this sword is more agile than the stats suggest, but with two hands it's just scary. That thick, broad and very stiff blade of lenticular section feels like it would deliver an extremely powerful blow.
Improvements
:
Satin blade finish
Satin hilt finish
Reshaped pommel
Reshaped cross
Peened tang
Wedged cross (the cross was loose on the tang, as is typical of Windlass swords).
JB Weld of all hilt components
Sharpened blade (sharpest at COP and below, not as sharp at forte)
Custom leather and cord over hardwood grip. Iím especially proud of this work because of the subtlety of the grip section. It transitions from oval in the lower section to round at the pommel and feels wonderful in the hand. There simply is no comparison to the stock grip in aesthetics, comfort and effect on handling. My best grip work to date.
I paid $209, including shipping, and added at least $100 worth of labor. Itís not perfect. I'm not Peter Johnsson and this a Windlass, after all, not an AA or Albion. But
what
a Windlass!
I need $300 from this sale, including original scabbard and shipping.
Thatís what Windlass/MRL ask for their high end, off-the-rack swords. This one is better than those.
For $325 Iíll re-blue the hit furniture.
For $350, Iíll re-blue the hilt and do my best to antique the weapon to approximate the present condition of A477.
Money order preferred.
Please feel free to ask questions in this forum.
---

Attachment: 67.88 KB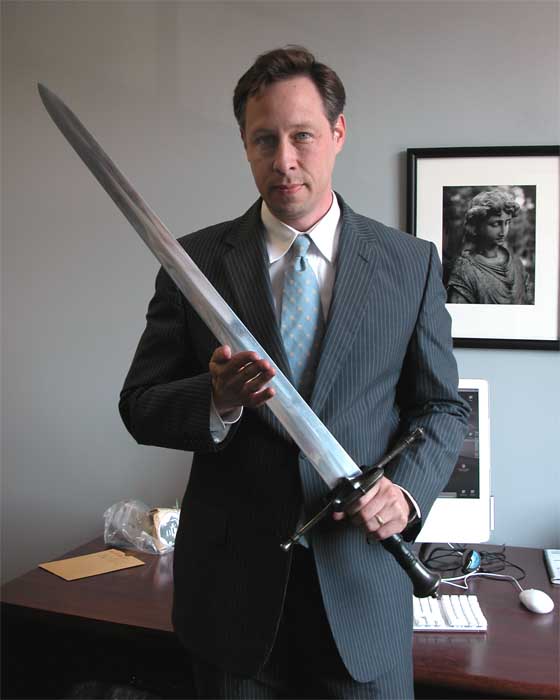 Attachment: 82.99 KB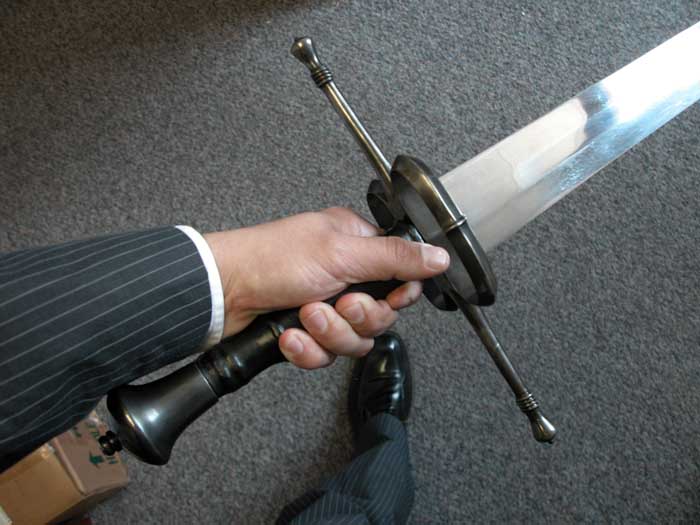 Attachment: 57.77 KB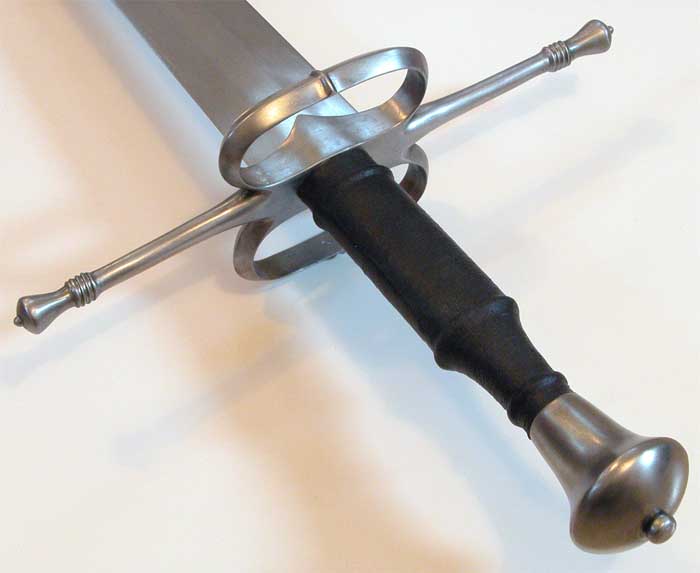 Attachment: 46.63 KB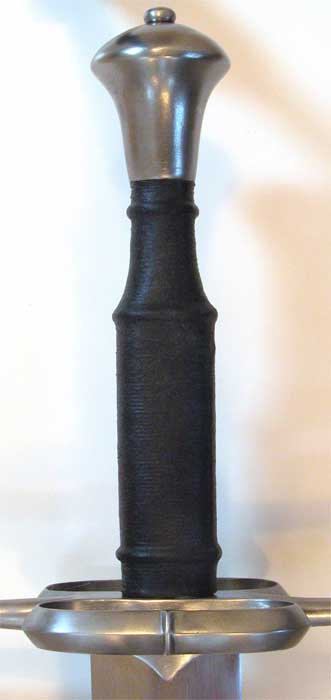 Attachment: 57.09 KB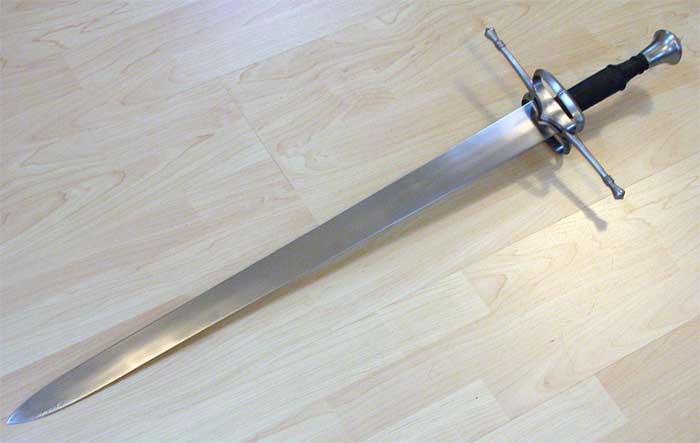 Attachment: 49.48 KB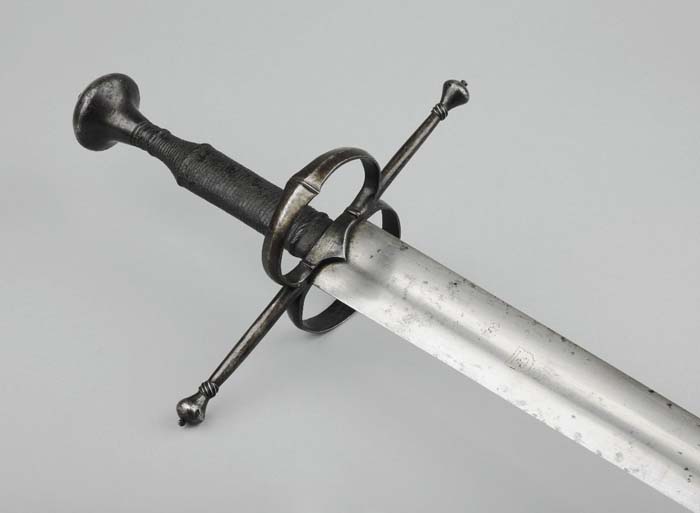 Attachment: 11.38 KB