I've just had quite a (cyber) journey. I have been collecting Arms and Armour photos again but this time organised by Museums, Castles and Collections. I thought that I had quite a good amount of photos after about 6 years of research on the web (almost daily) .......I thought I had found all the best pockets of Arms & Armour shots. Boy was I wrong ! It all started because I found that sorting items ... ( and we HAVE to be organised, don't we !? ~ :D ) ...by time periods and Armour / Weapon types was just too slow. So I started searching by the Major Museums then Castles and collections. Three months and 6.5 Gbs later...well, lets just say thats a lot of shots, although I have included a couple of Museum exteriors and interiors in each folder to get a 'feel' of what its like to visit a particular place.
I have found many unusual items in many unusual places. I think it is hard for those of us like myself who live outside Europe, to realise just how many Museums and Castles there are in fact. Certainly there are some whose displays are highly questionable ( esp. from a web - pic ! ) ....however, there are also very many Castles and Museums which display a huge quantity of items which have never left the local district and still bear the city's or district's Arming-Stamps. Some of these places are quite remote and are only just beginning to drum up a half-decent tourist trade. This is especially true the more East one goes. As Westerners, we don't get much of a view when it comes to what's in East Europe.......I would say that we are even quite tunnel-visioned, mostly only having our focus on Western books, Museums, Web-sites, etc. One book that I got over from Poland just left me astonished at the swords they have, but of course the language is always a problem. But you only need to look up a few words to do a search in a foreign language and it is very rewarding.
I have some good books, but you cant collect ( or afford) them all so I look at the Museum and Castle photos as not only supplementary but quite mind opening. There is one shot that someone took in Blair Castle, Scotland ...it probably is'nt like this anymore.....it shows the only padded lining for a Lance Vambrace that I have ever seen. It had slipped down and someone took a photo in 2007 not even noticing or knowing what it was. Surely it has been tied back in place by now as all other photos show it just peaking out from inside the Vambrace........it would have gone unnoticed if it had'nt slipped out.
Its very hard to find good Arms and Armour pictures from Ireland ! Don't know why. And then I realised that I had never seen a single photo of harness from WALES !!. So I did a search and found...two ! Now I realise that Wales is a lot smaller, etc but as there are so very many great photos available from Scotland I cant reason as to why I can only find two.
So, if anyone knows of any links or pics of Arms & Armour ( Anything...say, Celtic to 17th C. !! ) from Wales, I'd be grateful.
Cheers...
Merv
---

Attachment: 128.81 KB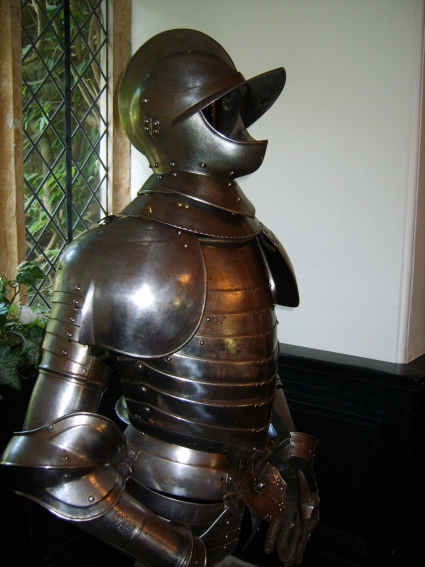 Attachment: 44.51 KB