---
Up for sale is my Albion NG Mercenary with a matching Albion Mark Campaign Scabbard.
The Mercenary is a true bastard sword that can be easily wielded in one hand and is unbelievably quick in two. Itís beautifully balanced and capable of both devastating cuts as well as wicked thrusts. Simply put, it is the fastest longsword I have ever used. It is in excellent condition and has seen only light cutting against targets such as pumpkins and pool noodles. The blade is still quite sharp and has retained its wicked point.
Read the hands-on review:
http://www.myArmoury.com/review_alb_conmerc.html
Albionís Mercenary page:
http://www.albion-swords.com/swords/albion/ne...ry-xva.htm
Oakeshott
typology: Type XVa blade, Type T3 pommel (faceted), Style 6 guard
Specifications from Albionís website:
Total length: 42.25" (108 cm)
Blade length: 33.75" (86 cm)
Blade width: 2.375" (6 cm)
COB: 4" (10.8 cm)
COP: 19.8" (49.5 cm)
Weight: 2 lbs 14.2 oz (1.35 kilos)
New, this package would be $666 for the Mercenary and $300 for the campaign scabbard i.e. $966 total. And youíd have to wait over a year for the scabbard to be built (I waited 14 months for this one). My price is
$750
for the set (
shipping included
) and Iíll save you a year wait on the scabbard.
Iíll take PayPal, check or money order.
PM me if interested.
Here are some pictures, some good and some not so good.
---

Attachment: 103.09 KB



Attachment: 107.39 KB



Attachment: 22.54 KB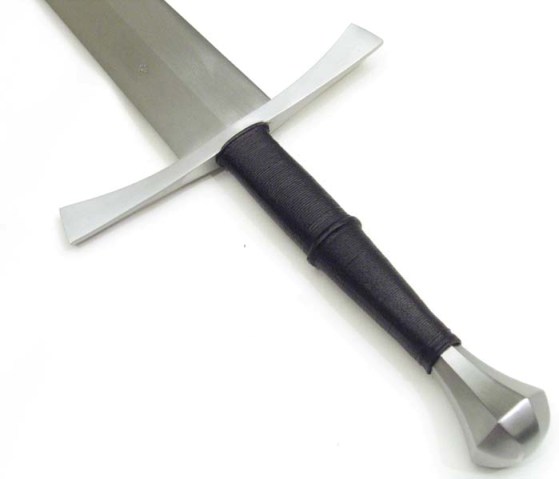 Attachment: 12.68 KB