Tod's Stuff Trio of Medieval Knives


A hands-on review by Chad Arnow



Introduction


It is sometimes easy as a modern collector to focus attention on more glorious weapon forms like swords and their battlefield companions, daggers. The market for reproduction weapons is generally biased toward these weapons of war as well (though it could be debated whether the market creates that bias or whether the bias creates the market or some combination). Swords and daggers, while important parts of martial history, were perhaps less important on a daily basis than a good knife at a man's belt. Battlefield weapons might go long stretches without seeing use while a knife would be used quite regularly for cleaning game, camp chores, and eating.

Knives seem to have been the subject of less research and publication than swords, daggers, and armour even though they likely saw much more use than their battlefield brethren. One book, though, has been a particular boon to those interested in knives: the Museum of London's monograph Knives and Scabbards. This book catalogues the knives, scabbards, and scissors/shears found in London archeological digs at former refuse dumping sites, some along the banks of the Thames. It's a fantastic resource on the subject and can serve as inspiration for maker and collector alike. This book was used as a reference in the creation of the three knives reviewed here.



Overview


While I may not have cared for them much when I first began collecting, knives have really grown on me and I've sought to add good examples to my collection. Leo Todeschini (aka "Tod" of Tod's Stuff) has done wonderful work for me in the past and was an easy choice when ordering.


Two of the three knives reviewed here were purchased for my collection. I didn't have anything specific in mind when making the order, I just asked for a knife that would fit the late 14th and early 15th centuries and would use whittle tang, rather than scale, construction. Tod was also making some items for an upcoming show and was planning on making a group of historically plausible knives. Tod offered me my pick of the knives we has going to make. Though I intended to buy only one knife, I ended up buying two.

The other knife was made by Tod and donated to myArmoury.com for use as a content prize. It is easily the fanciest of the three knives and is also the only one to use a scale tang construction with slabs of antique elephant ivory riveted to its tang. The other two knives were made with a whittle tang which bores through the grip and is peened at the butt end.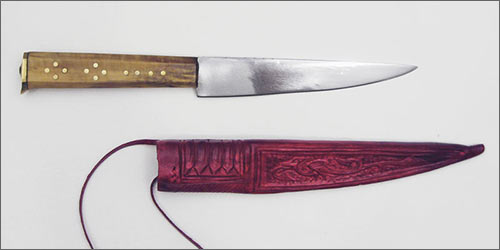 Knife #1 (rivets and inlay) measurements and specifications:
| | |
| --- | --- |
| Weight: | 3 ounces |
| Overall length: | 8 3/4 inches |
| Blade length: | 4 7/8 inches |
| Blade width: | 1 inch at base, tapering to 1/2 inch |
| Hilt length: | 3 3/4 inches |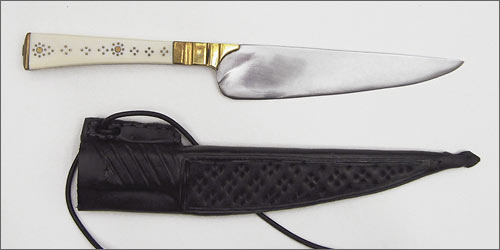 Knife #2 (ivory handle) measurements and specifications:
| | |
| --- | --- |
| Weight: | 3.5 ounces |
| Overall length: | 8 1/8 inches |
| Blade length: | 4 1/2 inches |
| Blade width: | 1 inch at base, tapering to 1/2 inch |
| Hilt length: | 3 1/2 inches |
| Bolster width: | 1/2 inch |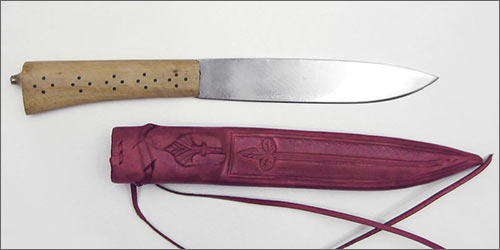 Knife #3 (groove and dots) measurements and specifications:
| | |
| --- | --- |
| Weight: | 3.125 ounces |
| Overall length: | 9 inches |
| Blade length: | 5 inches |
| Blade width: | 7/8 inch at base, tapering to 3/4 inch |
| Hilt length: | 3 5/8 inches |

Replicas created by Tod's Stuff of Oxford, United Kingdom.

The first knife is truly an amalgam of parts from Knives and Scabbards. The blade is similar to a number of knives in the catalogue and could easily fit within the 13th through the 15th centuries. The pattern of inlaid

X

s is like two other surviving blades from the late 14th century. The pattern of rivets in the grip is similar to two early to mid 15th century knives. Butt plates of similar shape can be seen on knives from the late 14th and early 15th centuries. The scabbard draws its dragon motif from a 13th century scabbard, though such zoomorphic designs can be seen on later scabbards as well.

The second knife is a similar combination of parts and would be most at home in the 15th century. It is sized and built more as an eating knife than everyday tool. It features ivory scales, brass rivets, bolster, and butt plate as well as smaller brass decorative pins. Its blade is made of folded steel.

The final knife is the simplest of the three in construction and decoration. Its grip is very similar to a 14th century example while the blade is similar to many examples found in London. It is decorated on one side with a groove, like many historical examples. The sheath is inspired by a 14th century scabbard in Knives and Scabbards.



Handling Characteristics


Reviewing the handling of knives is rather different from reviewing a sword's handling. All three knives are nice and handy and would be easy to maneuver in any situation. The two wooden-handled knives feature grips that feel ready for any chore, while the ivory-handled knife's grip is more delicate and refined and would be great for cutting food.

The first and second knives have blades wider than their handles, making it more difficult to accidently cut oneself. The third knife's blade would require a little more care to make sure one doesn't get hurt.



Fit and Finish


All three knives exhibit the accuracy and good looks I've come to expect from Tod. They all have the slight asymmetries we see on period pieces but are not sloppy in any way. All are tightly assembled and should hold up to much use. The blades are made from good steel and seem to be well heat-treated, making them better than many of the surviving knives found in London.

Knife #1 features brass rivets in the grip and a brass butt plate. These all mate well with the wooden grip and don't stick out or bother the hand. The inlay on one side of the blade is what really drew me to this knife. The 12 inlaid brass

X

s are visually interesting, though obviously not perfect. Three of them are slightly different in color and texture from a combination of stain from the flux used to attach them and from slight imperfections in the brass. I don't mind the look as the period knives we see are usually much rougher. Tod also inlaid his maker's mark with brass—a nice touch. The filework on the spine is a nice addition as well.

Knife #2 is easily the most elegant and refined of the bunch. The blade features filework on its spine. The pattern left by the folding of the steel is just barely visible; Tod has not etched it to make it obvious as we see on so many modern pieces. Over time, the grain will naturally become more noticeable. The brass pieces on the grip are well shaped and smoothly flow into each other and the grip scales. The pins are very well executed. The ivory scales are nicely carved and polished.

Knife #3 is the simplest and most rugged feeling of the three. The boxwood grip is nicely shaped and the series of soot and glue dots adds just enough visual interest. The raised rivet cone is seen on historical specimens and is nicely done. The blade is relatively simple but features a groove on one side and filework on the spine.

The sheaths for all three knives fit well, look good, and are based on period scabbards. Tod tools, carves, and punches them all over, leaving virtually no surface plain. Tod's scabbards are always nice and these three are fantastic examples of how much a quality scabbard adds to a piece.



Conclusion


All three knives are great pieces. I know I enjoy the two I purchased and I'm sure the winner of the thid knife appreciates the fine addition to his own collection. All three knives are historically accurate and well-made. The prices are always fair and I feel the two Tod's Stuff knives I bought for my collection were excellent values. These three knives show a variety of construction and decorative details and are all great examples of tools used by our ancestors.





About the Author
Chad Arnow is a classical musician from the greater Cincinnati area and has had an interest in military history for many years. Though his collecting tends to focus on European weapons and armour of the High Middle Ages, he enjoys swords, knives and armour from many eras.

Sources
Knives and Scabbards (Medieval Finds from Excavations in London), by J. Cowgill, M. de Neergaard, N. Griffiths

Acknowledgements
Photographer: Chad Arnow