Tod's Stuff Broken Back Seax


A hands-on review by Chad Arnow



Introduction


A host of weapons have been given the name seax (or sax), despite the wide variance in size, decoration, and purpose evident in the family. While always single-edged, they can range in size from small belt knives to full-length swords. The blades of iron, steel and pattern-welded mixtures can be hilted simply, in unadorned wooden grips, or can be hilted with metal guards and pommels along with many variations in between.

The blades themselves could take on a number of shapes but generally had a wedge-shaped cross-section. Some blades were decorated with inlaid wire in geometric patterns. In short, these weapons varied quite widely, sometimes by era and locale, sometimes by intended function. Simple, everyday utility knives might be decorated simply (if at all) while the swords of chieftains would be decorated to show their lofty status.

One blade form seems to have been popular in Anglo-Saxon lands: the broken-back seax, so named for the angling of its spine. This form survives in a number of examples, many in England. They show the standard variety in lengths, from just a few inches of cutting edge to larger examples and many are decorated with grooves and/or wire inlay.



Overview


The shear variety in the seax family can be daunting to today's collector. When looking to add one to my own collection, I had to focus on what my desires were for the blade. I didn't see myself ever portraying a wealthy chieftain or warrior, so (to the great relief of my budget) I decided I didn't need a highly decorated example. I wanted to have a seax that would be substantial enough to be a battlefield backup weapon, but also handy enough in size to be an effective utility knife for everyday use. The broken back seax always appealed to me, especially an example in The Museum of London (dated late 10th to 11th century), so I decided to have a simple example of that form produced.





Leo "Tod" Todeschini has made several daggers for me and it's always been a pleasure to work with him. Tod has made some very ornate seaxes under the label of his custom shop, Tod's Stuff. He also sells some simpler seaxes through his semi-production venture, The English Cutler. I wanted something more complex than The English Cutler pieces, but less ornate than some of his custom pieces. Tod was happy to take a commission for a relatively simple creation and his turnaround time was quick.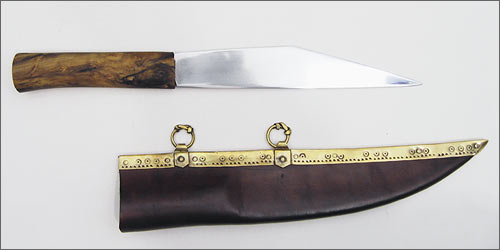 Measurements and Specifications:
| | |
| --- | --- |
| Weight: | 6.875 ounces |
| Overall length: | 13 inches |
| Blade length: | 8 inches |
| Blade width: | 1 1/8 inches at base, tapering to 1/2 inch |
| Hilt length: | 5 inches |

Replica created by Tod's Stuff of Oxford, United Kingdom.



Handling Characteristics


This seax fits nicely in the hand. It has a decent amount of heft to it and has the blade presence one should expect of a knife with no counter-balancing hilt components. The curve of the grip is comfortable and it feels secure on the hand.

There is no guard so one might worry about the hand sliding onto the blade if it thrust into something relatively unyielding. That's going to be an issue with any knife of similar form, so I have no concerns about this particular example. The blade is sharp and stout and should hold up to whatever use is thrown its way.



Fit and Finish


This is an attractive but simple knife. The blade is polished to a satin finish with evidence of some subtle grind or file marks. I've noted this on all the Tod's Stuff blades I've owned and it doesn't bother me at all. Tod used a tough tool steel for this blade that has a little bit of subtle texture to it: the look is not quite the same as pattern-welding, but gives the nice effect of perhaps being more than simple plain steel.

The blade's tang is inserted into a hollow in the grip and secured with shims/wedges of a softer wood and glue. As many tangs on surviving seaxes show no evidence of peening or riveting, the shims are an accepted form of securing the grip to the blade. On this seax, the assembly is rock solid and I have no concerns about it.

The grip is a piece of spalted boxwood. The spalting (fungal growth that invades the tree) makes the wood more interesting than plain boxwood, showing streaks and pools of darker and lighter spots. It's a nice way of spicing up what would otherwise be a very simple grip.

The sheath is made of heavy leather, dyed a nice brownish red shade. It is held closed with a U-shaped strip of brass, riveted through the leather and decorated with cup and ring designs (concentric circles around a central dot). It features two handmade brass rings for attaching it to a belt.



Conclusion


I'm quite happy with this seax. I've seen fancier examples by Tod's Stuff and have enjoyed them, but this simple version fits all my needs; it is attractive, well-built, and historically accurate. It is a great example of the seaxes in use as the Viking Age waned, ushering in the High Middle Ages.





About the Author
Chad Arnow is a classical musician from the greater Cincinnati area and has had an interest in military history for many years. Though his collecting tends to focus on European weapons and armour of the High Middle Ages, he enjoys swords, knives and armour from many eras.

Acknowledgements
Photographer: Chad Arnow