Tod's Stuff Dagger of Alexander Balliol


A hands-on review by Chad Arnow



Introduction


The late 13th century was a time of upheaval in Scotland. Following the death of King Alexander III in 1286, Scotland's throne was in dispute. Alexander III's four-year-old granddaughter, Margaret the "Maid of Norway", was titular ruler after his death but died in 1290 on her way to Scotland where she was to marry the future Edward II of England. With no clear successor to Margaret, the Scots asked Edward I of England to mediate the dispute and help them name a new king. During negotiations, Edward was able to have himself declared the feudal overlord of Scotland (Lord Paramount), placing Scotland under English control. Edward then named John Balliol king in 1292.

The Balliol family was, like many noble English families of that time, of Norman descent and held lands in Normandy, England, and Scotland. This would quite obviously create conflicts of interest in these kinds of disputes. King John remained in power, though he was accused of being a puppet of Edward I, until he was removed from power in 1296 by Edward I, who held him and many of his family members captive.

John's cousin Alexander was a player in these times as well. Chamberlain of Scotland from 1287-1297, he was also the first Lord of Cavers, a town in Roxburghshire. He sided with his royal cousin and likely opposed English rule until his capture by Edward I. From that time forward, Alexander fought on behalf of the English against the Scots, and was involved in the battle of Falkirk (1298) and the siege of Caerlaverock in 1300. Afterward, he oversaw some of the English defenses on the border between England and Scotland. Not much more is known of Alexander Balliol, except that he may have been a prisoner of Edward II in the Tower of London and may have also had his land in Cavers confiscated by Robert the Bruce, King of Scotland. He died in 1310 or 1311.

Like many of the Balliol clan, Alexander used a simple heraldic device for identification. His arms are blazoned as argent, an orle gules (on a silver or white background, the outline of a shield in red). Other members of his family used different colored orles (shield outlines) and backgrounds to distinguish themselves from one another.

A dagger decorated with a red orle on a silver background then came up for sale in 2003. It is an interesting piece and the heraldry on its pommel means it is most likely the dagger of Alexander Balliol. It has a stout diamond cross-section blade with a deep fuller, curved guard, and octagonal pommel (bearing the arms on one side). The tang is pierced with holes, presumably for rivets to hold the grip. It is a beautiful piece, and possibly a fairly unique one in terms of its form. Not many daggers can be found with pommels of this shape. All in all it is an attractive piece made more so by its link to an identifiable figure during that turbulent time.



Overview


I saw Alexander's dagger in a sale catalogue and was immediately intrigued by it. It is relatively simple in form, yet I find it elegant as well. After a number of successful custom projects from Leo Todeschini (aka Tod) of Tod's Stuff, I commissioned him to make a replica of this dagger.

I know of only one one photo depicting this dagger and it was shot at a very severe angle. Nevertheless, it was possible to straighten the picture enough to have some sense of its actual proportions. I sent Tod some extrapolated measurements and he turned out a dagger very close in size and shape to what the original probably was.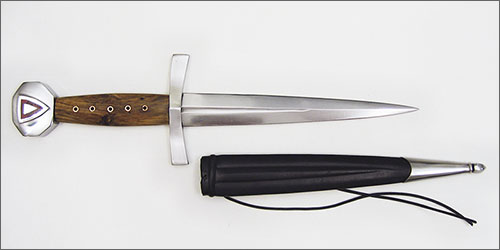 Measurements and Specifications:
| | |
| --- | --- |
| Weight: | 14.875 ounces |
| Overall length: | 13 3/8 inches |
| Blade length: | 7 3/4 inches |
| Blade width: | 1 1/8 inches at base, tapering to 3/8 inch |
| Grip length: | 3 11/16 inches |
| Guard width: | 3 3/4 inches |

Replica created by Tod's Stuff of Oxford, United Kingdom.



Handling Characteristics


This dagger feels solid and lethal in the hand. The grip is roomy enough for my hand and is a comfortable size and shape whether held point-up or point-down. The blade is a very thick diamond cross-section, and is nearly a quarter-inch thick at its base. It is also quite sharp. A blade like this would have been deadly against people clad in the mail and early plate armour seen in Alexander Balliol's time.

With the large, solid pommel the point of balance lies back in the grip. Later daggers with large heraldic pommels (so-called Burgundian heraldic daggers) have hollow pommels, but the sale catalogue lists this one as having "a heavy octagonal pommel of iron", indicating it is likely solid. The heavy pommel doesn't affect the handling in any negative way, but the overall feel might be unusual for some people. The fuller on this replica is shallower than the original's, likely to aid in balancing the weapon as a deeper fuller would make the blade even lighter.



Fit and Finish


It's interesting to own several pieces by the same maker as you can often see an evolution in their work. Tod has always supplied nice-looking weapons for me, but the quality of his finishing seems to be improving with each piece. This piece certainly shows that. Tod has managed to improve his fit and finish without losing the period-correct, handmade finish I've come to enjoy so much.

The octagonal pommel is not entirely symmetrical but is well-made. Though the original also has asymmetries, Tod has added his own character rather than trying to copy the asymmetries of the original. The look is wholly authentic. The red enamel on the silver shield shows some darker undertones and evidence of hand-crafting and is one of the few decorative touches on an otherwise austere piece. The shield is soldered into place. The pommel might perhaps be too shiny, but that's easily remedied. The guard is well-shaped and well-finished.

The grip is of boxwood and is treated with linseed oil. The tubular rivets are handmade of copper and finished so they are unnoticeable when handling with bare hands. The grip is one-piece and bored through by my request, rather than formed of two scales as the original is likely to have been. The blade is nicely shaped and evenly finished. The fullers are not quite perfect, but aren't sloppy in any way. The blade is solidly mounted, as is the whole piece. It should hold up to years of heavy use, which it likely will not see.

The scabbard is made of two layers of leather, dyed black. The chape is of steel and features a faceted, knobbed finial. It is decorated with an embossed section emulating the size and shape of the fuller. It is supplied with a thong for tying it to a belt, though one should do so carefully as the weight of the hilt would make it likely to tip if tied loosely.



Conclusion


I'm very happy with this piece from Tod's Stuff. It's a nice representation of a rare dagger form and a beautifully crafted weapon. Tod manages to capture the feel of originals while inserting his own character to them. His wait times are reasonable as are his prices, especially given the quality of the end product. I'm proud to own this weapon.





About the Author
Chad Arnow is a classical musician from the greater Cincinnati area and has had an interest in military history for many years. Though his collecting tends to focus on European weapons and armour of the High Middle Ages, he enjoys swords, knives and armour from many eras.

Sources
Peter Finer: IN ARMIS ARS MMIII, by Peter Finer, et al

Acknowledgements
Photographer: Chad Arnow